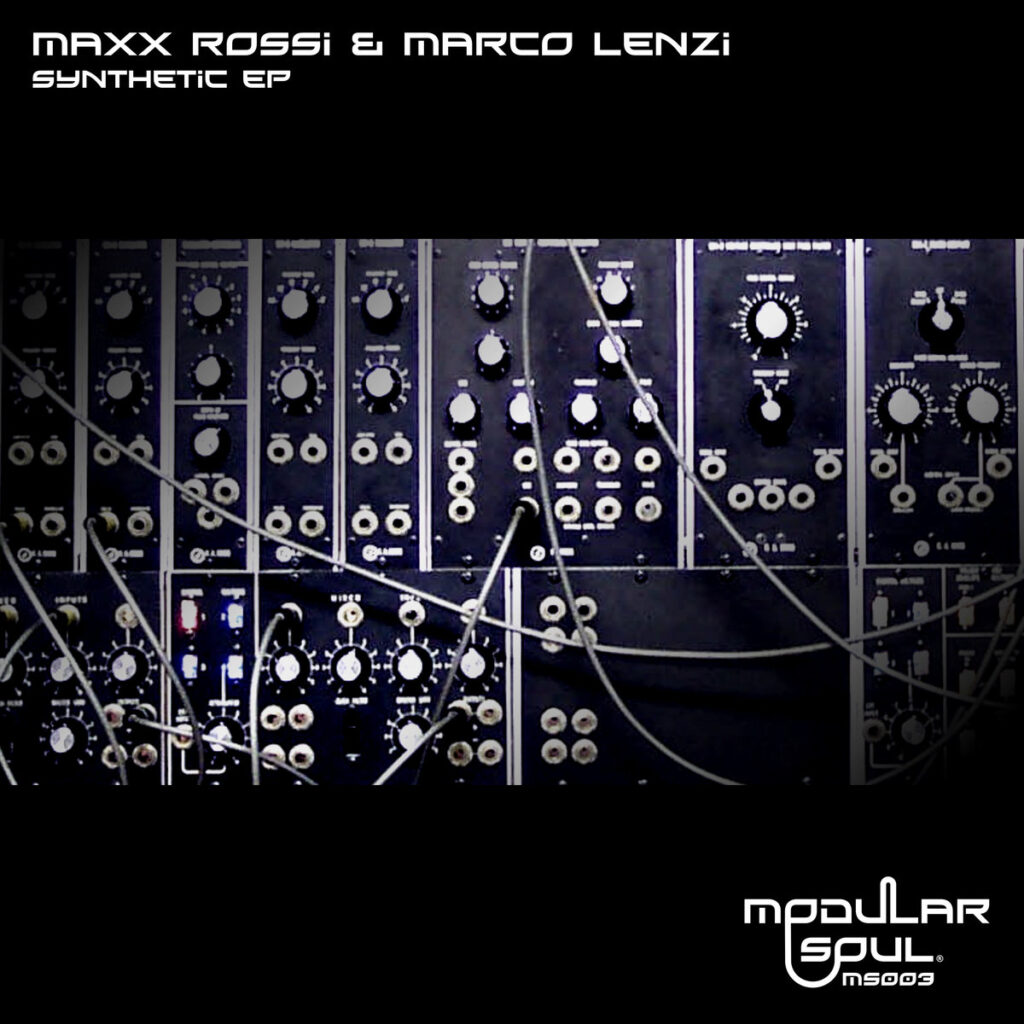 Good friends Marco Lenzi and Maxx Rossi present their collaboration "Synthetic" EP on Maxx's new imprint, Modular Soul. Two driving, pumping, headstrong tracks from this duo of veteran techno producers set the course for this new project; a strong two-punch combo out of the gate.
Polymeric boss Maxx Rossi is also label manager for Molecular Recordings, Marco's seminal imprint, which we last reviewed when he relaunched last year with Dekeyden's three tracker. Italian-born Rossi himself has numerous releases under his belt with tracks supported by names like Joseph Capriati, I Hate Models, Paco Osuna, Dave Clarke, Ben Sims, Slam, Kobosil, Alan Fitzpatrick, Marco Bailey, Anfisa Letyago, Amelie Lens, and Richie Hawtin among others. His and Marco Lenzi's combined experience brings an especially potent mix of influences to the table.
Jumping right into the title track "Synthetic," a galloping bass groove introduces the cut. Tense atmospheric rolling arps create moody tension with sweep fx adding to the huge space and tight sizzling hats. The vibe is straightforward, hard-driving, big pumping techno. The arps build and filter sci-fi elements that give the track its environment, probing, exploring the void of outer space. Meanwhile the beat stays grounded and pulsing, balancing the hypnotic arps.
"Organic" manages to drop into an even deeper groove, the sweep fx steaming in like the ghost of a train. A haunting synth texture hovers sustained in the background, dark and strange, menacing and mysterious. The beat drops into a massive pounding rhythm, making me think of dark grimy nights in a big warehouse. The energy here is darker, heavier, more spacious, more psychedelic; the sound design exploring hidden sinister corners of the universe. "Organic" is definitely the cut for me and could see it playing out at 4am on a dark night to take folks on an interesting trip.
"Synthetic" EP is a powerful debut for this duo. Stream it at the link above and make sure to keep an eye on both Modular Soul and Molecular Recordings in the months ahead.
-Nicolaas Black
Check out Dirty Epic music recommendations here.
Listen to our podcasts here.
Find out more about our events here.