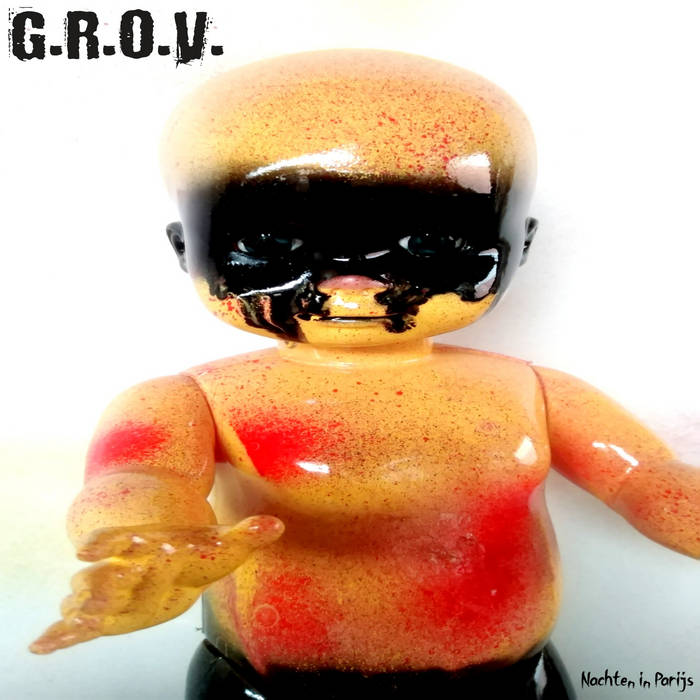 Netherlands-based techno producer G.R.O.V. makes his mark with his latest "Nachten in Parjis" EP.
Though there are hundreds of exceptional new releases out there to both enjoy and review each week, the latest self-release from up and coming Dutch artist, G.R.O.V., "Nachten in Parjis" most certainly stands out. His latest four-track EP is a raw, even crude take on techno, sure to impress fans of the harder side of electronic music.
To some, "Nachten in Parjis" may come across as something like a homespun sonic experiment, sounding as though it were made in a frenzy, likely utilizing vintage, analog gear to give it a rough, unpolished feel. Harsh and rugged, these characteristics don't hinder the appeal of the music, rather they help to give the EP its eminent character and charm.
Starting things off is the title track, "Nachten in Parijs." A massive, weighty kick pounds while robotic sound effects prance around in circles. Rigid and mechanical, this track only ever shows a hint of restraint when an occasional low pass filter comes in for the briefest of moments to help build anticipation for an unruly drop. The next track, "Mama droog je tranen," which in English translates to "mommy dry your tears," takes the tempo up a notch as fat snares flare and distorted bass synths expand and explode. A haunting ambient siren in the background helps to create tension and release, while a bright synth lead comes soaring by. This track perfectly juxtaposes repetition with raw, uncontrollable power and unpredictability. The third track, "Heir in mijn armen," comes in to cool things down, but only slightly. Vaguely reminiscent of dub techno, this track explores a deeper sound with a chilling mystique. A simple two-chord progression is all that's needed to keep the beat moving. Gentle echoes and reverb applied to the synth leads and delicately inlaid soft-spoken voices all work to dampen the grit and intensity of an otherwise pure peak-time apogee.
Closing things out is the irresistible party anthem, "Rode Rozen." What starts off sounding like a surefire dance floor weapon is suddenly thrown for a loop by an unexpected turn at about two minutes in. Just when you thought you knew what to expect, G.R.O.V. goes off the deep end with a shrill, outlandish, a-tonal synth solo that oozes with experimental perplexity, perhaps too risqué for the masses but a delight for those looking for something a bit more unfamiliar and unexpected.
For fans of hard techno, G.R.O.V.'s latest EP "Nachten in Parjis" is sure to enthrall.
-Jeronimo Watson
Check out Dirty Epic music recommendations here.
Listen to our podcasts here.
Find out more about our events here.