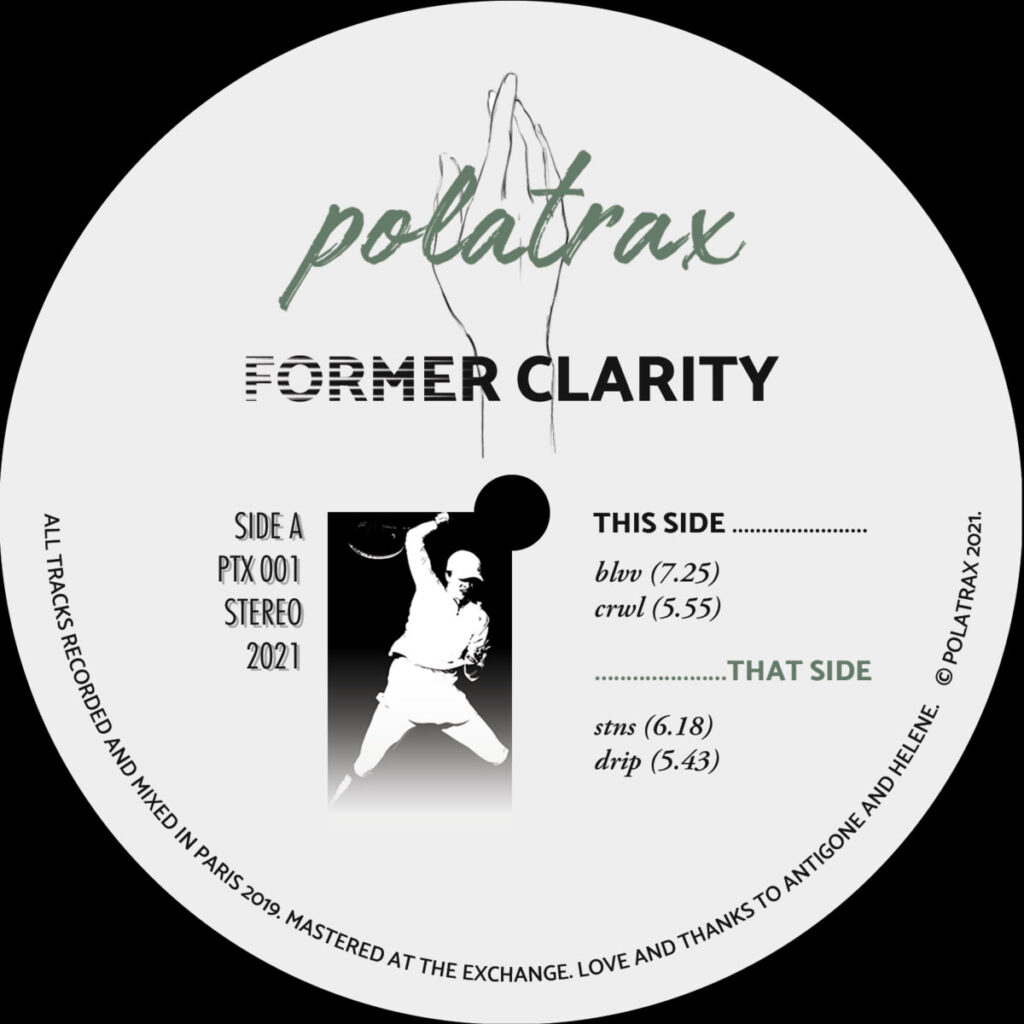 French house producer, polatrax, debuts his stellar first album, "former clarity".
Self-proclaimed "smooth person riding the pleasure waves," polatrax is a fresh new voice in house music. His debut album, titled "former clarity," is an impressive 8-tracker self-released both digitally and on vinyl. Coming out just in time for summer, this album incorporates breezy synths, funky rhythms, and soothing vocal chops to create a rich and uplifting sonic soundscape best enjoyed outdoors. Polatrax high-quality productions and consistently sonic aesthetic make him a new standout producer you're going to want to keep up with.
Smooth is a good word to describe polatrax's sound. From the first track, "blvv," a luscious pad and a gentle, field-recorded ambiance blur the lines between warm memories and pure fantasy. Composed with the utmost elegance and a seasoned, soulful sensibility, the track transports you to a Chicago house block party, or even an intimate picnic in the park. "I believe," a gently layered voice repeats, melting away your stress and tension like an ice cube in a sauna.
The third track, "stns," is another delectable track with even more gusto. The rolling percussive fills in this cut go a long way toward enticing you to dance, sounding balanced and effortless. Steadily, the album's energy and pace quickens, leading to truly joyous track, "drip." It's here that polatrax pulls out a bigger and funkier bass line than the tracks before it, perfectly placing the highest point in the dead center of the record. Lastly, the final cut, "Som1," closes things out on a blissful high. Fast and punchy, polatrax means business with this cut. A beautifully plucked melody tugs on your heartstrings while fluid panning of the melodic elements leaves you elated and disoriented in the best kind of way.
Available just in time for your next open-air summer soiree, "former clarity" is out now on vinyl or alternatively available as a name your price digital download exclusively on polatrax's bandcamp page, linked above.
-Jeronimo Watson
Check out Dirty Epic music recommendations here.
Listen to our podcasts here.
Find out more about our events here.