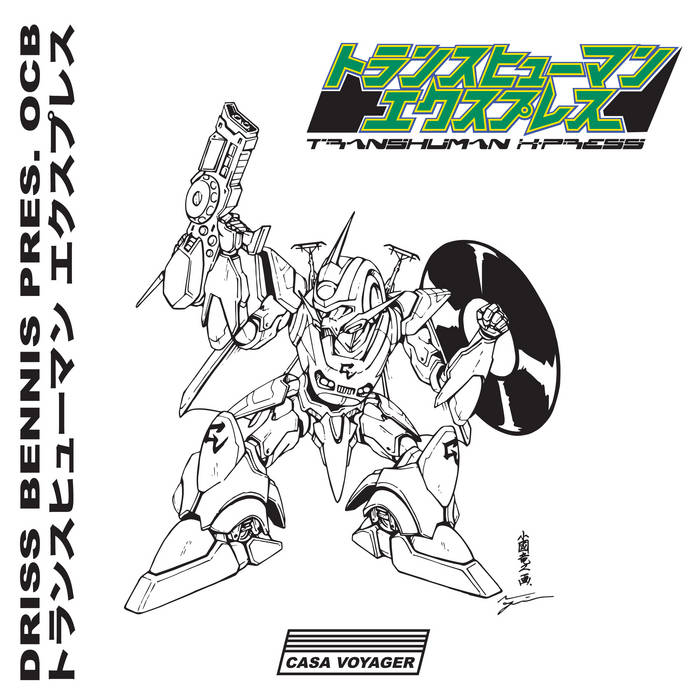 Casa Voyager bossman Driss Bennis, aka OCB, is back with "Transhuman X-Press" for a galactic trip consisting of Acid-y Breaks and deep, emotive tracks that stimulate the sonic palate.
The discreet DJ/Producer challenges social and cultural barriers, guiding listeners to explore perspectives beyond the dominant trends. Driss, otherwise known as OCB or DJ Booth Owns, facilitates A&R and releases nothing but class for the Moroccan powerhouse that is Casa Voyager. The Casablanca-based label can be heard all around the globe. Known for esoteric, outside the box releases, the label refuses to put out anything less than top shelf. Even if you're unfamiliar with the work of Casa Voyager, you've probably nodded your head to one of their tunes. "Transhuman X-Press" is an 8-track voyage—no pun intended—that's about as heady as they come.
The release begins with an interstellar intro of whimsical chords traveling like wind, gentle but powerful. "Aquaquest Pt.2.5 (THX)" enters shortly after with a happy-go-lucky energy akin to a Japanese RPG title screen. A groovy bassline joins the show with its counterpart of Acid blips. Phasers fade in and out as the mystical melody continues its trajectory. The album takes up roots in Break Beat percussive patterns and a smooth, rounded low end. "The Magic Laugh" cements its funkiness from the jump using amen breaks and a warbled treble. "Transform" picks up the pace with a choppy homage to early morning rave beats. Radiating synth work keeps the air mysterious and unpredictable, meanwhile a compressed kick works the background. Again, Acid makes its way into the meat of the track with intelligent formatting and cadence.
"Mo'Phatt" featuring Slikk Tim picks the listener up on a magic carpet and whisks them away to a dreamscape of funk and rhythm. Instrumental bass scales mix the vibe up temporarily until a climax is reached in two minutes. Washed-out choral waves crash back and forth with the tune's tide as sound effects mimic bottle rockets being launched. Introspective thoughts and ideas ooze out of "Transport" with ultra-catchy drum breaks and Acid bleeps—a sure-fire contender for the best track on the release. The track's definitely provoking some deep thought while keeping things dance-forward. The final track "The Betrayal" also shoots its shot as number one on the podium. Pulsating, chest compressing bass rocks the scene with pure output and class. A combination of Hip-Hop boom bap and Ambient-meets-Downtempo flow, "The Betrayal" begs to be mixed in or out of with the only complaint being its shortened length.
High-class production is to be expected when attached to anything concerning the Casa Voyager label. The boss Driss Bennis accepted the challenge and went above and beyond with "Transhuman X-Press". Start to finish, this release delivers. Check the album out at the link provided above.
-Jack Plumb
Check out Dirty Epic music recommendations here.
Listen to our podcasts here.
Find out more about our events here.