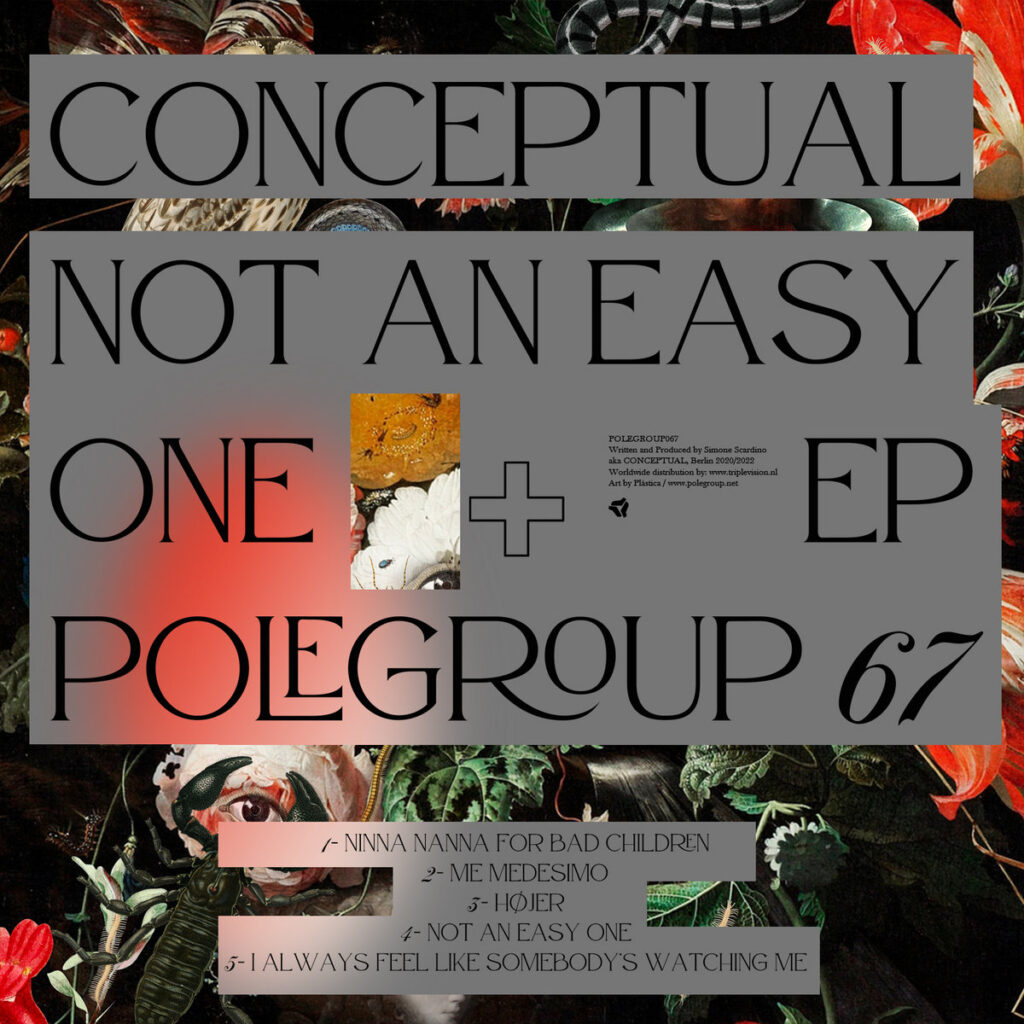 Berlin-based Conceptual appears on Polegroup for his first outing as a sophomore producer, offering hard and gritty textures alongside paranoid, foreboding, and hard-hitting industrial grooves on "Not An Easy One" for a can't-miss release from the Madrid label.
Polegroup has earned its dedicated following over the years. Recently, it's been focusing on this deep and tough layering of atmospheres that touches on the idea of bewilderment and sensory overload and combines it with complex, industrial rhythmic elements to create a signature sound. Conceptual comes along with this "Not An Easy One" release, and we enter into the familiar environment as expressed by PoleGroup's other offerings.
It also leaves a little room for swing and shoulder sway to the elements, making for some Techno that's grooving and providing an artistic and apprehensive tension to the mix. Similarly, this is an intense theme that has been explored before, in Johannes Heil's "Paranoid Dancer" but the label has embraced the intensity of the idea, and even more so, Conceptual has taken the idea home here.
A solid example of this is "I Always Feel Like Somebody's Watching Me" where the main synths are creeping up on the backs of your shoulders with mid/side processing or a binaural direction mixer, and the kicks never complete solid 4/4 pattern. Everything is unnerving. This is the kind of track a DJ would use to wind up an audience before launching them into a full, heavy 4/4 set of tracks. Essentially, Conceptual is reeling you in.
Another prime example of this is "Me Medesimo," where the elements are bordering on psychotic extremes and horror themes to build the tension. All the elements in the track are pulled back, including a reversed noise synth line that acts as the high hats in the track. Conceptual takes fistfuls of your soul with him into the meat of this track.
"Højer" reaffirms there's still satisfaction left in the world by providing a solid industrial groove against the satisfying 4-on-the-floor pattern fighting against a tense dissonant atmosphere and ominous pad. "Not an Easy One" continues this industrial trend with a slightly broken, Techno groove. Seething, distorted reversed hats, and pitched-down atmospheres feature heavily while playing with odd timings of drum sequencing in the midrange claps. The atmospheric track "Ninna Nanna for Bad Children," translated from Conceptual's Italian mother tongue, means lullaby for bad children. In essence, fessing up that at the start of this EP, the atmosphere is going to be intentionally dark and malicious so that nobody can sleep comfortably at all. A pleasant little evil thought to drive away anyone who holds up their phone with scrolling text asking for Rihanna.
In a creative sense, this EP is not much for casual listening, and it sort of takes a different stance than a label such as Nachtstrom Schallplatten had presented in the past with the horror-based themes they hinted at. Instead, "Not An Easy One" goes for full-on intensity with no holds barred. Those who listen to these kinds of tracks in the car, on the walk in the park at sunset, or on their way to the drug store to get more black nail polish are certainly made differently than most people. But for the practicality and necessity of creating a hard atmosphere for a dark trip into a DJ set, these tracks are essential to create that vibe.
-Sean Ocean
Check out Dirty Epic music recommendations here.
Listen to our podcasts here.
Find out more about our Events here.
Listen to our review picks here.