Gritty bass-heavy grooves and distorted atmospherics feature thick and hypnotic on Lewis Fautzi's newest 4-tracker, "Methods of Nothing," EP off the venerable Polegroup Label.
For most people, the words "New Lewis Fautzi just dropped off PoleGroup" should be enough to make any real Techno head wonder why you're still here reading this and not up on Bandcamp copping that vinyl. In all seriousness, Lewis Fautzi has been defining the sound of Iberian Techno as of late, and for the most part, that means combining a vast wealth of experience in artistry, sound design, and personal style. And somehow, through all this, he still manages to make proper and functional Dance Music.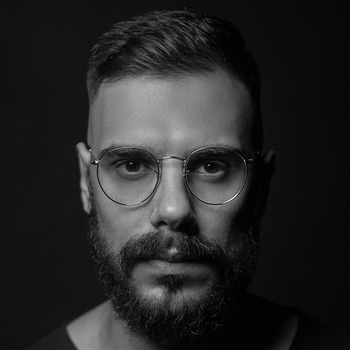 There are a bunch of similar artists leading the scene with these attributes, but it truly feels like Fautzi is one with his music. There are no barriers to his creativity, and each release is just pure expression from a well that never seems to run dry. Of course, that's what we see on the surface. Perhaps the curation from Mulero and PoleGroup has little to do with picking the most attractive fruiting parts of Fautzi's imagination.
What successful strange fruit is coming up on the vine here? In this "Methods of Nothing" EP, the tracks "Paranoia," "Ground State," and "Uncertainty" all start with the heavily distorted atmosphere in between the notes. This really creates the feeling and thought of looking at the grittiness of the streets and the wet grit between paved stones in the streets. The heavy compression is like the morning mist sucking the bits of grungy fall leaves to the stones. The groove is the pace at which you're walking. In the case of "Ground State" and "Paranoia", it's kind of a walk where your mind drifts off to other places, and in "Uncertainty" it's a brisk jaunt to places unknown. "Total Absence" is a bit different, since its atmosphere relies on some multiband distortion and more straight grooves based on that steady 16th note echoed hat and similar woven lines directing the piece together in a fabric of tonal colors.
In summation, the "Methods of Nothing" EP is another part of the big picture of Techno and a touchstone of proper Techno for others to follow. It's great to see a full EP of that at a point in the year where other labels are busting out their year-end compilations—cleaning house of unreleased jams before the new year. Having a unique and complete statement is fully encouraged and well supported. Having this music to put on to decorate the space of your mind's eye with this kind of imagery, and to do it so well and effortlessly, is completely magnificent.
-Sean Ocean
Check out Dirty Epic music recommendations here.
Listen to our podcasts here.
Find out more about our Events here.
Listen to our review picks here.