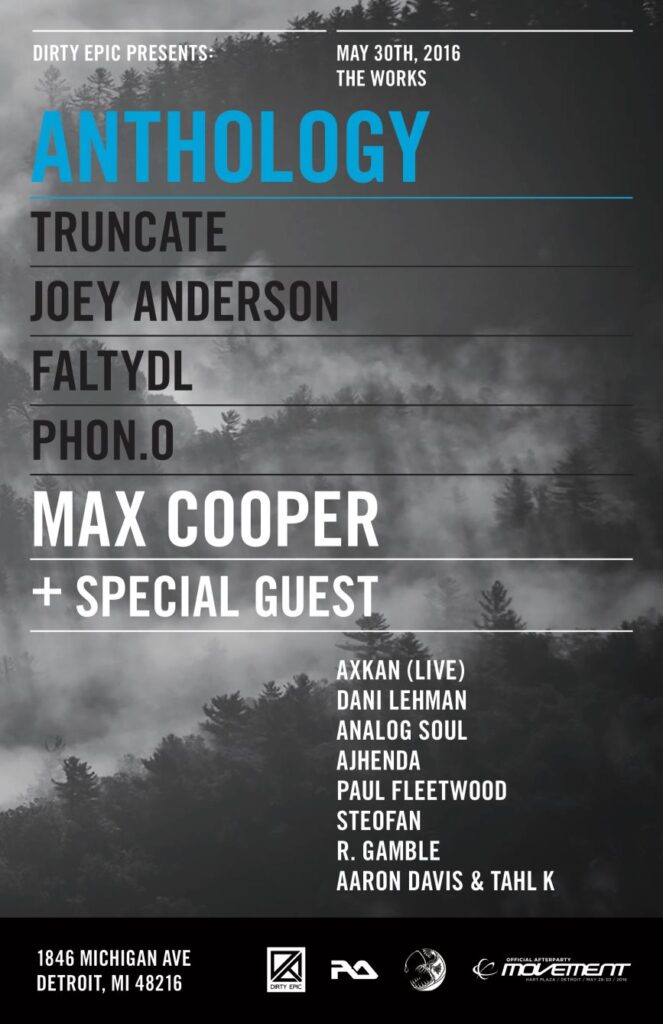 Dirty Epic returns to Detroit for our 4th installment of Anthology at the works. This year, like in years past, we set the stage for the techno in the main room and a flavorful twist of house, tech-house in the front. With talent from NYC and Denver providing proper techno/tech-house on the patio.

This year we have enlisted:
Joey Anderson, who is gaining speed with his release of After Forever and releases on Inimeg Recordings, Dekmantel, Latency, TANSTAAFL, Deconstruct Music, and Avenue 66.
Truncate, Alias of Audio Injection, from Droid Behavior has released several EP's on his own Truncate label, as well as various remixes and an EP for Modeselektor's 50 Weapons.
FaltyDL has been busy realeasing music for 50 Weapons, Ramp, Ninja Tune, Swamp81, Planet Mu, Rush Hour, and Hemlock, in addition to his own Blueberry Records. PHON.O is a DJ and musician who released on Cytrax, Shitkatapult, Tigerbeat6 and Boysnoize Records. His unconventional combination of sexy booty IDM, dirty techno intergalactic hip hop, ghetto beats and future garage goes beyond typical contemporary genre boundaries.
Axkan based out of Los Angeles can be found on several labels such as The Cast Project, Reloading Records, SecreTechno, RheoStatus, just to name a few.
Line-up /
Max Cooper, Truncate, Joey Anderson, FaltyDL, Phon.o, Axkan, Dani Lehman, Analog Soul, Ajhenda, Paul Fleetwood, Steofan, R. Gamble, Aaron Davis & Tahl K.
Check out our other events here.