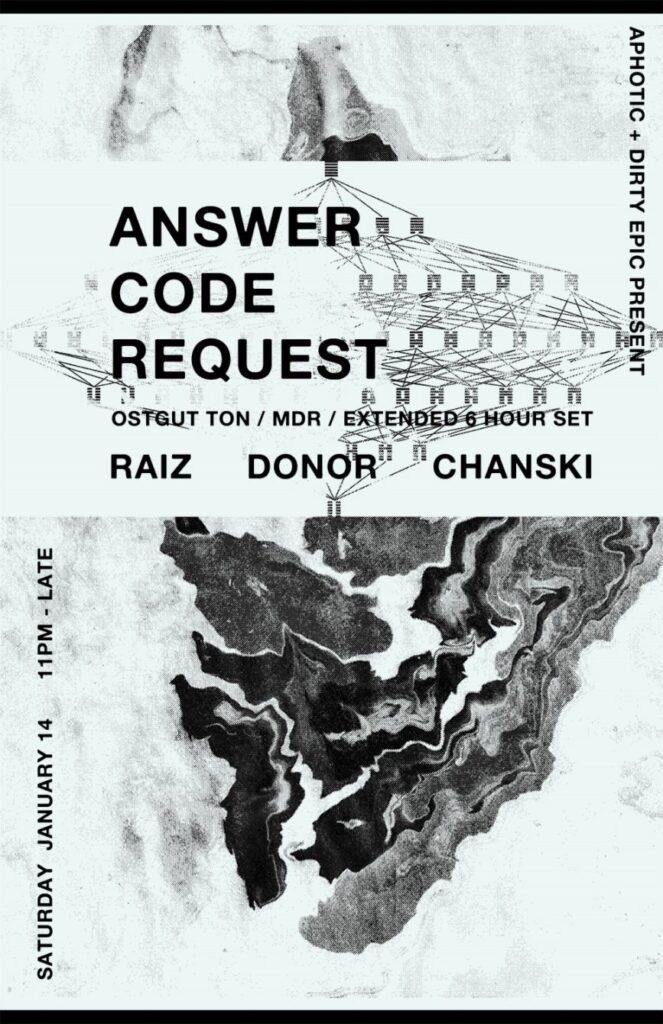 This Saturday we go on an exhilarating sonic journey through the deep, dark recesses of Brooklyn and into a bunker containing only the most fervent techno obsessed freaks of the city. At the helm: 6 hours with Berghain mainstay Answer Code Request​, who has proven more than worthy with stellar productions that rival his legendary abilities behind the decks. With releases on Ostgut Ton​, Marcel Dettmann Records, and his own label ACR, Answer Code Request holds the rights to this extended onslaught.
Those of you who attended our 24 hour labor day event in 2015 realize why we are excited to have Droid Recordings​ Raíz​ back in Brooklyn for an overdue beating to our longing ears. New material on there own imprint VRV and continuing to push further with numerous events in Los Angeles and beyond, 2017 will attest to their evolution and we get first taste here in Brooklyn. Always a treat to have our west coast brethren in the house!
Donor​ will be bringing his, brooding, dark, and mentally lush orchestrations to the dancefloor for us once again. His productions on labels Semantica Records​, Prosthetic Pressings​, and Stroboscopic Artefacts​ to name a few are on constant rotation and it comes to no surprise he has been featured on Pole Group​s most recent compilation with his track "Last Cause."
Finally, an artist that epitomizes the ethos behind what Aphotic is all about, Chan​ski will be setting the tone for the evening providing precise balance between heady, ethereal soundscapes with sinister and powerful rhythms. He's been with us from the start and there is a reason why we can't get enough of his masterful sets, be it peak time relentlessness, mind bending closing sets, or unsurprisingly satisfying openings. Not to be missed.
We join forces with Dirty Epic Productions​ for a night that will be unparalleled for those who are ready. We have employed a new location with a big hardwood dancefloor and room to mingle and relax your feet. Expect top notch sound and an ominous but inviting atmosphere…
Line-up /
Answer Code Request
Raiz
Donor
Chanski
Check out our other events here.