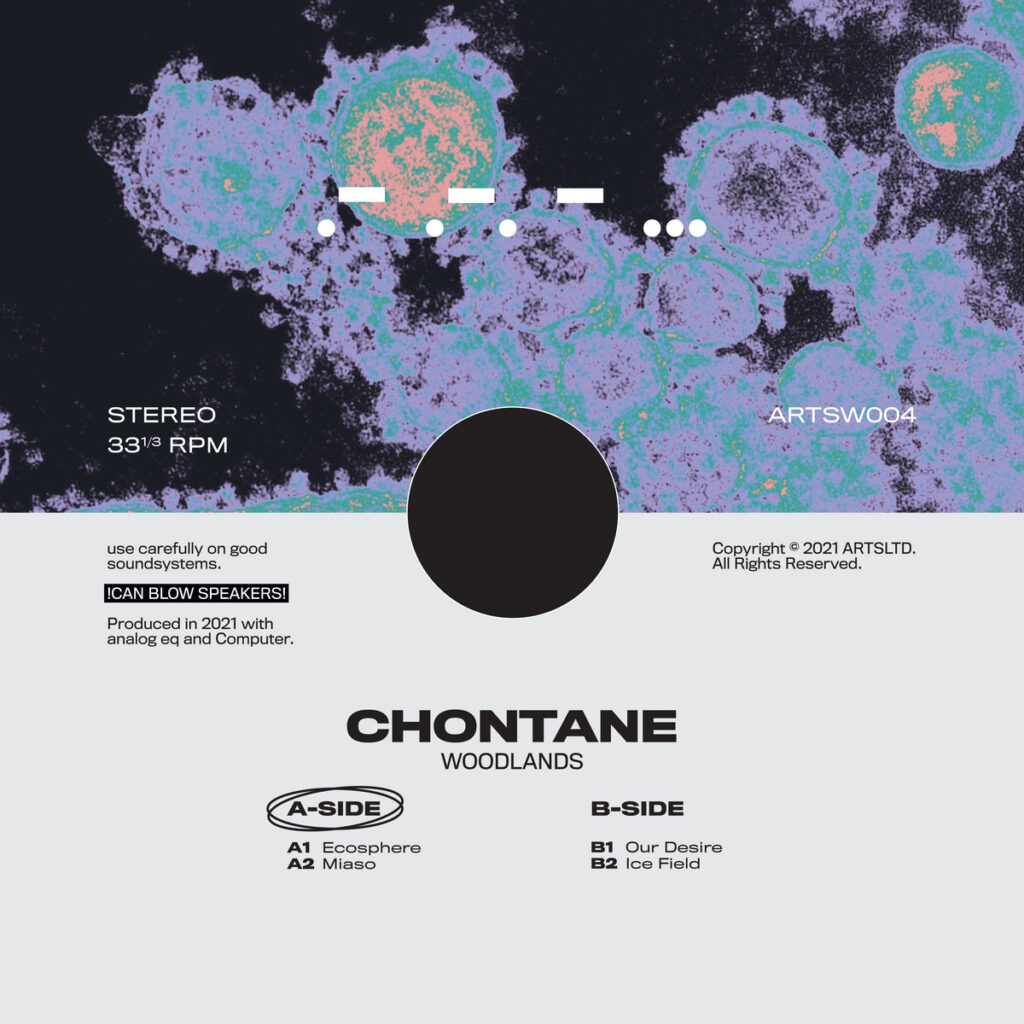 A high-energy field of sound in Chontane's Woodlands EP that transports the listener to a hypnotic realm. Creatively weaving through genres with a surgical precision, making for a wild introspective journey.
Deep, fast-paced techno full of introspective action is what you can expect from Chontane's latest release, "Woodlands." Weaving through dance genres efficiently and skillfully has cemented David Natochen as a perennial act in the Berlin Club scene. His first output coming in 2018, Chontane has, in a short period, garnered attention from labels worldwide, including Rekids, and now joins independent techno label ARTS. The Rotterdam label is known for precise and intricate compositions with a new age touch.
A forewarning printed on the EP's cover reads "!CAN BLOW SPEAKERS! use carefully on good sound systems." Hard to say no to a recommendation of that sort! There are certainly touches of IDM inspired machinery and a focus on growling tones incorporated throughout the release. However, it is safe to categorize the overall prowess as techno. There are ups and downs that make the record travel on its static journey but the tempo is consistent and rocking. A track like "Our Desire" comes out firing with airy electronica yet maintains the constant pump expected in hard hitting club beats. A plethora of drum constructions and melodic lines find their way on every track without becoming over-encumbered an any point. A clever take on the Amen break is found at the beginning of "Ice Field," creating a high-energy field of sound that transports the listener to a hypnotic realm. Clashes of cymbals and broken, reverberated, echoes mesh well with the foundation of drum patterns. The page turns as a sultry low-end punches with clarity. Repeated stabs fold in and out keeping things interesting.
Each track provides droning elements creating an edge that is eventually reached as the EP draws closer to the end. Digital exclusive "Ivy" dials in an esoteric vibe with its chord progressions and canter. Kick and tom cadence build a unique groove which adds depth to the production. A guitar-like synth layout is prevalent towards the middle adding melody and cheer in the otherwise darker, minor release. "Miaso" sets the standard for Industrial panning and rhythm. The destruction of speakers could be seen as imminent with a banging track like this. It fits nicely in the story with its whirring sound effects and poignant snare. Not quite experimental, but the EP has new-age elements which can be expected to be copied in the years to come. Nothing ultra-fancy, better yet, the focus lies on mastering of the sound spectrum. Utilizing outstanding production techniques and frequencies makes for a wonderful journey of blended techno.
-Jack Plumb
Link – Bandcamp
Check out Dirty Epic music recommendations here.
Listen to our podcasts here.
Find out more about our Events here.