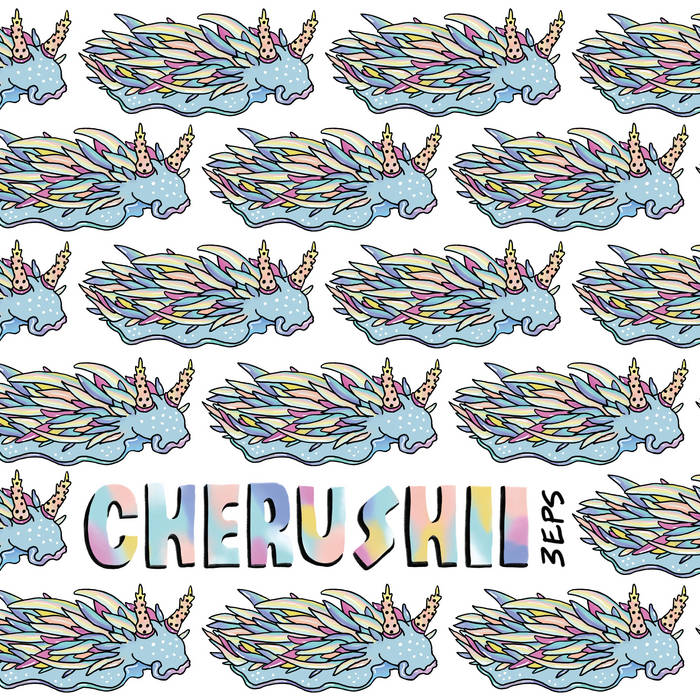 Cherushii, with help from her family and friends, posthumously releases previously digital-only releases into vinyl-reissue "3 EPs" album compilation, creating a physical commemorative cenotaph to memorialize her work as a musician who pushed the bounds of underground house, disco, and pop music.
When I met Chelsea.. We were working together at Tower Records and fell in love over a shared bond of music. I talked her ear off about the history of electronic music while filing classical and world music. She was studying piano at the SF Conservatory at the time, and I would eventually take her to piano lessons in the truck I'd bought for my sound system.
As a teenager, Chelsea was already making full indie electronic albums on a four-track using a kid's drum machine, a department store Casio keyboard, an effects rack, a couple hand me downs from the Boz Scaggs Band, a bass guitar, and an electric guitar she had applied gum wrappers to and lacquered it with several clear coats of nail polish. Chelsea was a born musician; if you gave her any musical instrument, she could play just about any song you'd ever heard within minutes due to her innate sense of perfect pitch.
When collecting records she had this intuitive, deep knowledge of the then-current state of indie music. She was following drone music and bands like Buffalo Daughter and was a huge Japanophile who had a bunch of hard-to-find J-pop singles. Her other main influences were Smashing Pumpkins and was a big fan of Orbital and early Bjork. Even though she had a few favorites, her quest for knowledge and musical curiosity was always super deep. She would find no other joy than reading the dictionary, Wikipedia, or pouring over Discogs and assimilating vast collections of musical connections in her mind. She was always listening, always learning, always trying to recreate the music she was hearing around her within her imagination and incorporating ideas she heard.
Her music influences changed a lot after we both went to Tresor on Leipziger Strasse before the first club was demolished. The influence of Berlin, the party life, and so much of the musical climate being geared towards techno was a big turn in her attitude towards making music. She could see that electronic music could be successful in the world, and she was sick of being in bands who wanted to use her musical aptitude for their own personal gain. We pooled our funds and got her a Yamaha rs7000 sequencer/ sampler, an Elektron Machinedrum, and a Roland JP8080; soon after, she started playing live.
Initially, she was playing a lot of live pa Psychill at campouts as well as our house parties and got into the ravey Antler Subway label releases of the early '90s since they were easy to pick apart as to how they were made. Her base of influence comes a lot from the techno parties that we threw together in 2003 as she was co-promoter of DEFSF, as well as her desire to play live as a solo act and recreate the ravey and loved up psy-chill and progressive ravey tracks she was listening to. When Tower Records went bankrupt, we returned to Berlin to live in Friedrichshain for a month on my severance, and we soaked up the club atmosphere and met a good friend at a used record store, Martin, who ran Audio-In. We had long discussions about techno and the scene over in Berlin, all while trying not to get fabulously dope classic cuts all fingerprinted up with Kaffee und Kuchen. It was a great musical education for both of us, and we had vowed that we would make the trip back every other year or so.
Later, when we had moved to Alameda, we met up with our neighbor Travis Hough to jam together on his drum set making noise and feedback loops. One summer, we were all on the roof drinking cheap sake and listening to Travis' art curator roommate Matthew Post, who made long playlists of Brazilian Funk and Italo Disco on CD. It was through the easy-going atmosphere of barbeques and listening to Mr. Flagio, My Mine, Fun Fun, and Ken Laslo that Travis and Chelsea started making a jokingly influenced, tongue in cheek Italo Disco band together called Easy Street based on lyrics input into google translate to Italian and back into English again. Chelsea created sentimental pop songs as the musician and Travis as the frontman singer of the duo while they both collaborated on songwriting.
We went our separate ways when she decided to make a go for it being a musician in Berlin after she met up with James Bass who had a deep knowledge of house music and tech house. I continued on in SF promoting techno parties under DEFSF solo. Chelsea spent a lot of time soaking up the club culture of Berlin and also back at Audio-in. There was a lot of house music influence on her style at the time; it was the more underground and loved genre in the techno city of Berlin. Though her foray into minimal techno and harder techno was well known and documented, it never stuck.
Upon her return to SF, she started practicing making new music at her studio every day and started DJing and collaborating with Clairity at Pulse Generator that she started becoming a true musician and honing her craft. It was during this time that she took on the Cherushii moniker after an "Engrish" variant of her name and nod to her early J-pop influences. She began to release a lot of stellar disco-tinged releases as well as Detroit techno and Acid House and through her work with Marcia Miget continued to pursue her love of making sentimental pop that was tied to her roots as an indie electronic producer. While her work as a KALX college-radio DJ (a lifelong dream come true) and her close ties to Mike Bee at Vinyl Dreams continued to influence her insatiable thirst for music and music history, Cherushii's acclaim from working in these areas of electronic music had garnered her tours with Maria and several solo tours across the states with the 100% Silk label right up until the night of the Ghostship Fire where she was playing on the lineup with our former neighbor Travis who was in Ghost of Lightning.
Chelsea was one of the 36 people who died in the Ghostship Fire, which was a tragic and deep loss to the underground independent dance community; she was only 33. The Ghostship disaster changed the face of the San Francisco underground, and the tragedy evicted artists and collectives from art spaces nationwide. The news of the disaster spread around the world club culture with her face becoming the symbol of the tragedy. Her death was senseless and an incredible loss to the world who hadn't yet met one of the most musically brilliant, most unique, and kindest people to walk the face of the earth. To those who had met her, loved her, and had known her well… the loss was incalculably heartbreaking.
In some cases, releasing an album of old cuts from the past is more or less a power grab by a label to capitalize on the tragedy and heartache of fans; this is so very far removed from that. This album stands as a memorial to a former vinyl fan, to the person who deeply touched every person she came across, and as a keepsake from her family and friends.
As you know, MP3s are ephemeral things that can be erased with several iterations of hard drives. Committing them to wax has a lasting effect on creating a meaningful and tangible way to hold the heart of Cherushii's work in your hands. It's there for you to meditate on the good times found within the grooves. The collection of tracks is the absolute peak of her work as a solo producer right before her untimely death. It's a cross-section of Acid House cuts, quintessential SF House Flavors, and Soulful Pop House featuring Kara Marie, Golden Donna, and Maria Minerva. When I listen to this, I hear everything that came before and her development as a musician. And sadly, I also hear the unrealized potential to become one of the absolute greats of house music and techno soul. I see the little girl that floored a gym full of disbelievers at her school with "Come Back to Sorrento" on an accordion she just casually picked up as an instrument. I see the fiercely unique young woman that was fanatical about friendships and birthdays. I see the loving partner who struggled with that one section of the Chopin Mazurka that I still can hear playing in my head.
To me and the people she touched in deeply meaningful ways, they don't hear just a collection of house tracks and collabs, they see and hear these things. The limited-edition vinyl is for them and to her memory. If you're one of these people, please pick up a copy of the 300 slabs of wax and watch it spin and sit awhile with the memories. If you want a commemorative token and rare piece of music history of San Francisco, as a collector, you will be hard-pressed to find anything else like it.
-Sean Ocean
Check out Dirty Epic music recommendations here.
Listen to our podcasts here.
Find out more about our events here.