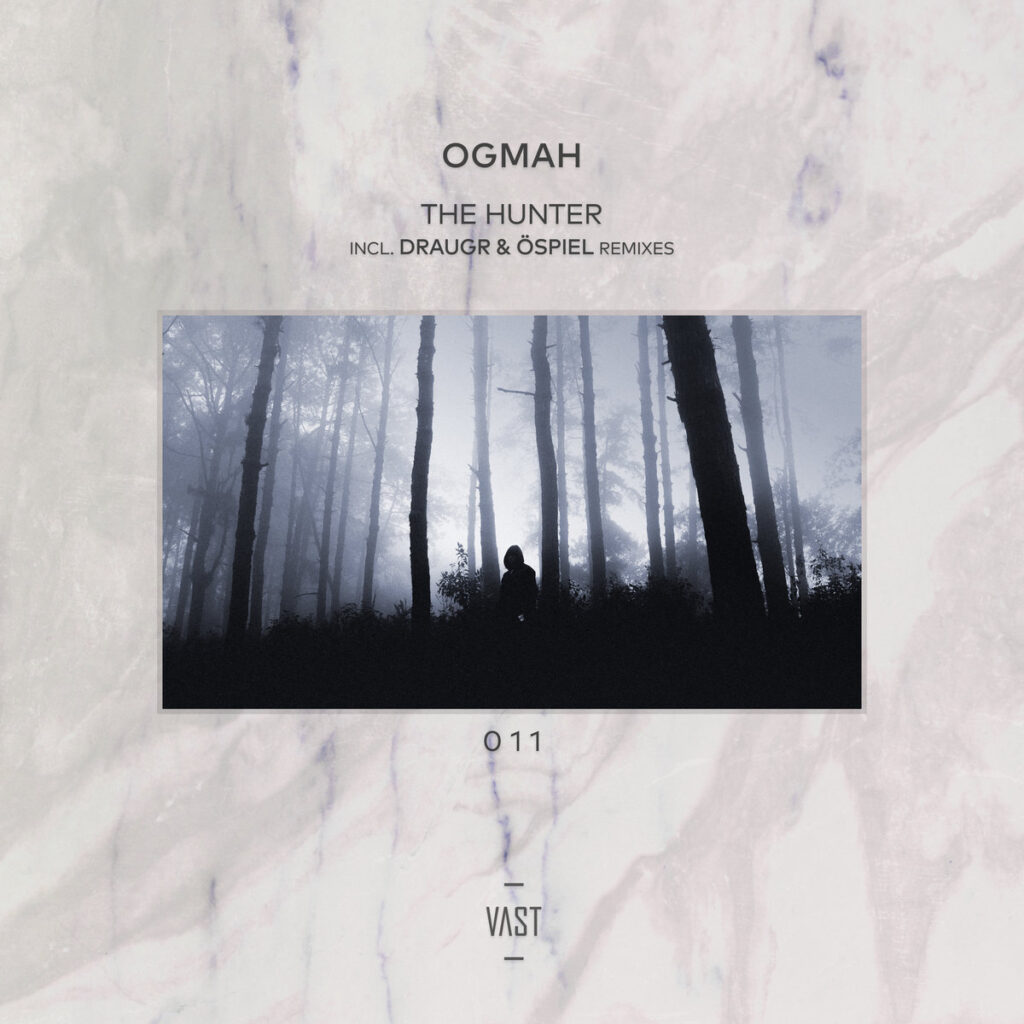 Istanbul's newly emerging label and collective, Vast Perception, delivers stellar hard techno with "The Hunter" EP from French producer and DJ, Ogmah.
Ogmah is no stranger to the sounds of dark, raw, and industrial techno. Whether listening to his hardcore industrial mixes or some of his more recent releases on select techno labels including his own imprint, Askorn Records, Ogmah's passion for the darker side of techno is undeniable and infectious. While his two most recent tracks, "The Hunter" and "Punishment," further demonstrate his unapologetically brash musical voice and unwavering talent as a producer, it's the two remixes from Vast Perception regular Öspiel and the mysterious Draugr that help elevate "The Hunter" EP to some of the label's best output.
Starting off the EP is gritty and foreboding title track, "The Hunter." Booming distorted bass drums immediately suck the oxygen right out of the room, while demonic screams and industrial screeches further intensify things. A trash can snare drum reminiscent of a Slipknot performance occasionally rings out, as if the beat wasn't already hitting hard enough. From the first drop at about thirty seconds in to the track's close, Ogmah continuously revamps each section, somehow mustering more and more aggression and intensity without a second wasted.
Following suit, the second track, "Punishment," starts with an unruly broken beat that pummels you. Bursts of grainy noise tear through the number like a hatchet, rising just before each downbeat for added suspense. Save this track for the peak of your next hard techno or industrial set to really shake things up.
Perhaps equally important to the success of "The Hunter" EP as Ogmah's first two contributions are the exceptional remixes from Öspiel and Draugr. Belgian techno heavyweight Öspiel transforms "The Hunter" into an atmospheric joyride. Utilizing some of the most prominent vocal samples, drum hits, and sound effects, Öspiel's interpretation seems pleasantly familiar to the original, yet at the same time, entirely new. Thick reverb and modulated insect noises take this remix out of the club and into the open, yet its booming techno kick drum will more than satisfy an eager warehouse crowd. Last on the EP is the equally atmospheric remix from the elusive producer, Draugr. While this version of "Punishment" is far more refined in its composition compared to the original, it most certainly maintains its drive. The fastest of the four, Draugr's remix is simply trance inducing, all while remaining 100% pure raw techno.
Ogmah's "The Hunter" EP is a powerful techno release that features four high-energy tracks best utilized during the peak of the night.
-Jeronimo Watson
Check out Dirty Epic music recommendations here.
Listen to our podcasts here.
Find out more about our events here.