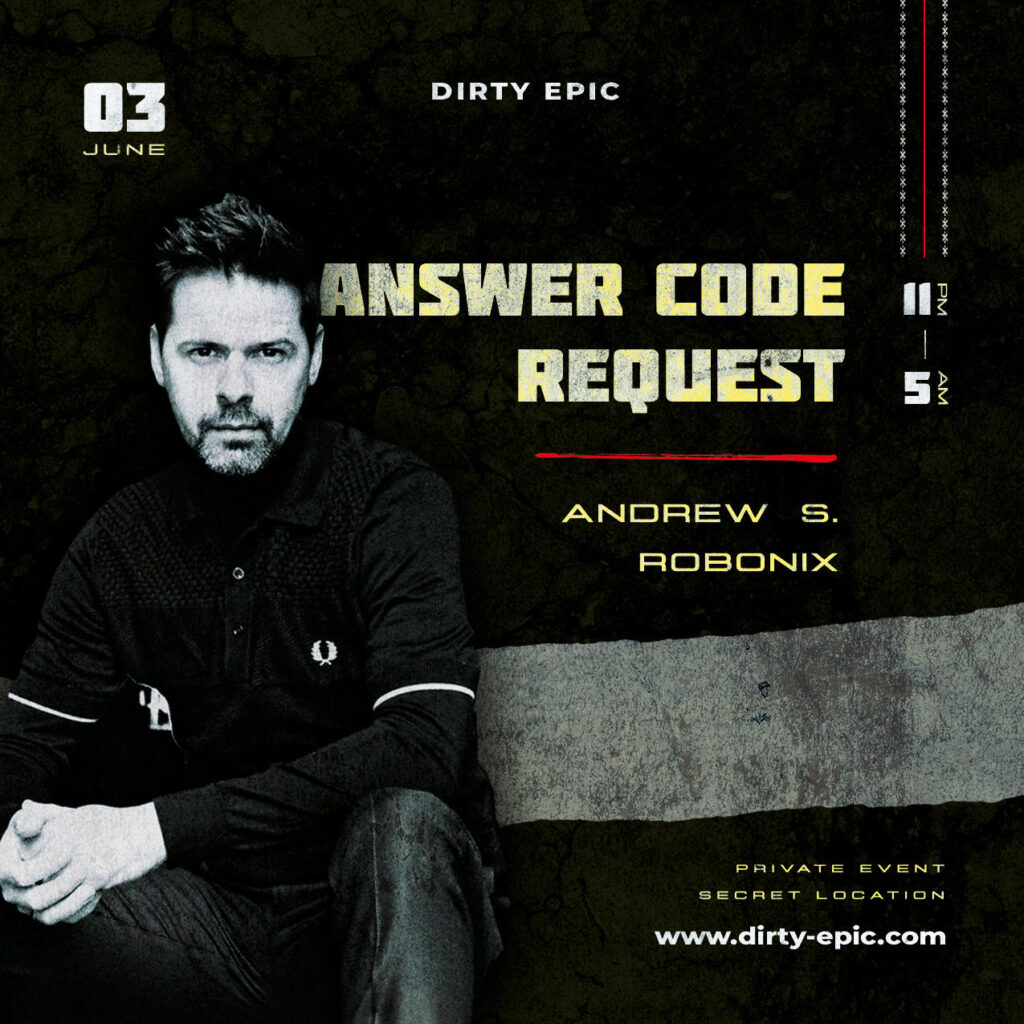 The Berghain mainstay, Answer Code Request makes his way to Mile High City for the very first time. Plus DE boss's Andrew S. does a rare dj set in celebration of his birthday as well as Denver's Robonix on support.
You must request the ticket link on the FB event wall or dm @dirtyepicla
We STRONGLY recommend that everyone get tested prior to attending any event, including ours, and we STRONGLY urge everyone to keep up to date with their booster shots.
This is a SAFE SPACE to enjoy music and friendship. Anyone caught harassing, discriminating, disturbing others or breaking any of our policies shall be immediately removed and banned from all events.
Location will be e-mailed to ticket holders 2 hours before the event starts.
Ticket Policy: All sales are final. Non-refundable. Non-transferable. Street parking at your own risk. Ride-share strongly recommended. NO outside food & drinks allowed, NO pets.
NO photos and videos are allowed.
COVID-19 has been declared a worldwide pandemic by the World Health Organization and is extremely contagious and is believed to be spread mainly from person to person contact.
By entering the venue and or/event, you acknowledge the contagious nature of COVID-19 and voluntarily assume the risk that you may be exposed to or infected by COVID-19 and that such exposure or infection may result in personal injury, illness, permanent disability, and death. The attendee will agree to assume all of the foregoing risks and accept sole responsibility for any injury, illness, damage, loss, claim, liability, or expenses of any kind ("Claims"), that you may experience or incur, and hereby release, covenant to to sue, discharge, and hold harmless the venue, event promoters, vendors, and each of their respective parents, members, partners, affiliates, divisions, subsidiaries, and landlords and their respective officers, directors, and employees from Claims of any kind arising out of or relating thereto.
There will be no refunds for this event.
Tickets are not refundable and non-transferable.
A valid Government ID matching the name on the ticket will be required for entry. If you purchase a ticket for a friend or significant other, your presence will be required at the door for them to enter.
Check out Dirty Epic music recommendations here.
Listen to our podcasts here.
Find out more about our events here.