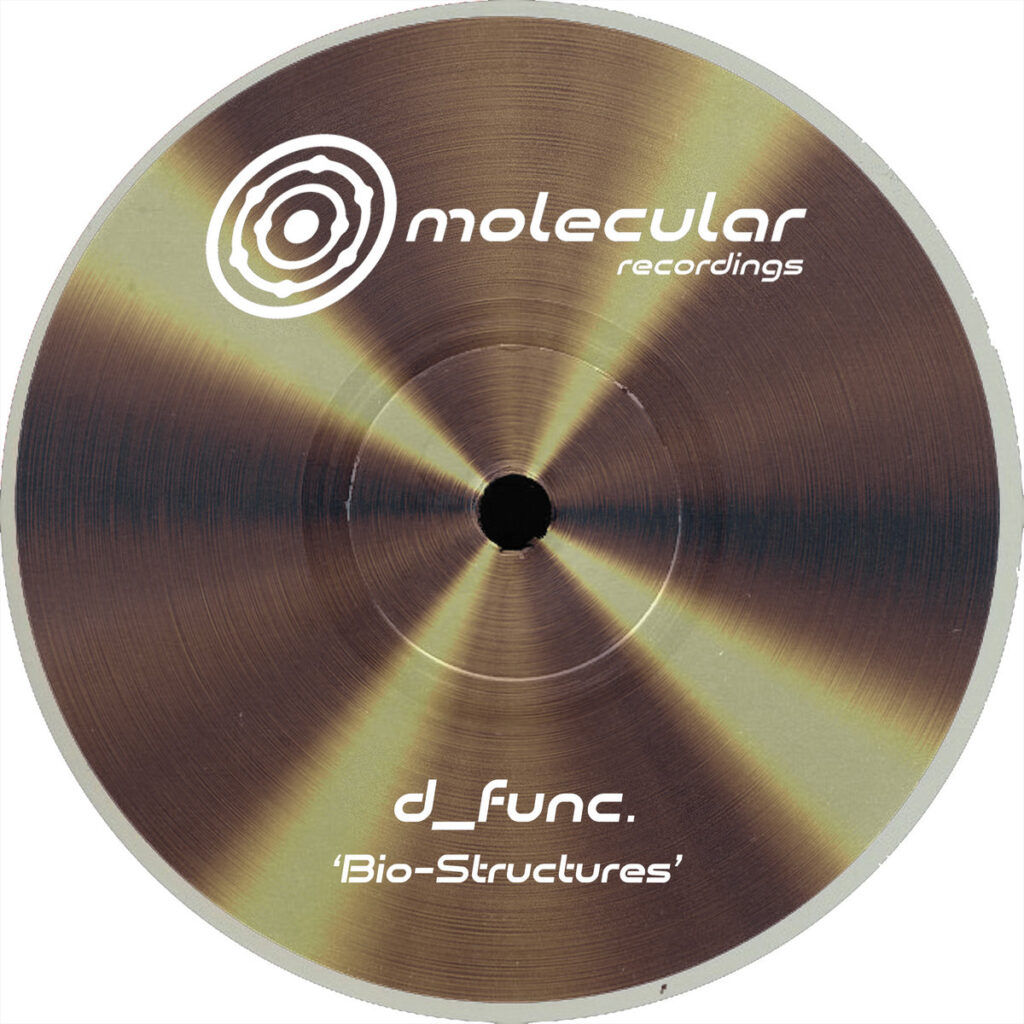 Alexander Kowalski, under his d_func. alias, makes a welcome debut on Marco Lenzi and Marco D'arcangelo's Molecular Recordings with "Bio Structures"—a two tracker of satisfying techno that comes freely and organically at the hands of an expert.
Both tracks on this "Bio Structures" EP, "Bio Structures 1.1" and "Bio Structures 1.2", have a timeless vibe yet still let us hear Kowalski's own personality and style. After a great couple of years, he returns to his raw and driving techno roots from his DisX3 days, now under his d-func. alias. The loops are 23 years old, which is hard to believe, but it's something Kowalski has been relating to over the last few years, knowing full well what's come before, being a part of the history of this music himself while also trying to find new ways to stay ahead of the curve.
Marco Lenzi has had his ear to the ground in many techno social circles, so for him, finding new techno artists to add to the Molecular Recordings roster is like being a kid in a candy store. It's obviously a pure joy to expose people to techno, and it's why Molecular Recordings, with Lenzi alongside label partner Marco D'arcangelo, has been a favorite among these techno circles, from veterans to fresh-faced techno heads alike. The label is well known for its matter-of-fact style, delivering consistent quality you're unafraid to reach for when pulling tracks from your crate.
It's precisely this reputation that's allowed the label to become a classic and staple favorite in the scene for decades with a marked fondness from the many DJs who appreciate the Locked Groove records series and CD comps like Bio Molecular Rhythms Volumes 1 & 2 which contain loops for ripping and playing live with a sampler or the burning to CDs for added layers while playing on CDJs. From this basis Alexander Kowalski takes the idea one step further stating, "I really loved their CD compilations including a data track with sample loops from the artists. So I took the chance and made the two-tracker "Bio Structures" this year using over 20 years old loops."
The pairing of Molecular Recordings and Kowalski with these 23-year-old loops is a statement, attesting to the staying power and enduring nature of techno while knowing how to keep it fresh. It is knowing exactly what works from experience and not going overboard trying to seduce an audience with obvious electronic music gimmicks that fail to impress after being out of the wrapper for a few years. The real challenge for artists like d_func. who know just what it means to 'keep it real' is how to keep it exciting for the older audiences who hold a long term appreciation for their music and at the same time keeping it hyped up enough for the newer DJs and dancers who haven't yet heard the history but sense the inherent superior quality that much of the other techno out there seems to lack.
Thankfully d_func. and this "Bio Structures" EP really know how to tread that line well. This two tracker will surely become a reliable, welcome addition to your playlists in 2022 and beyond.
-Sean Ocean
Check out Dirty Epic music recommendations here.
Listen to our podcasts here.
Find out more about our events here.