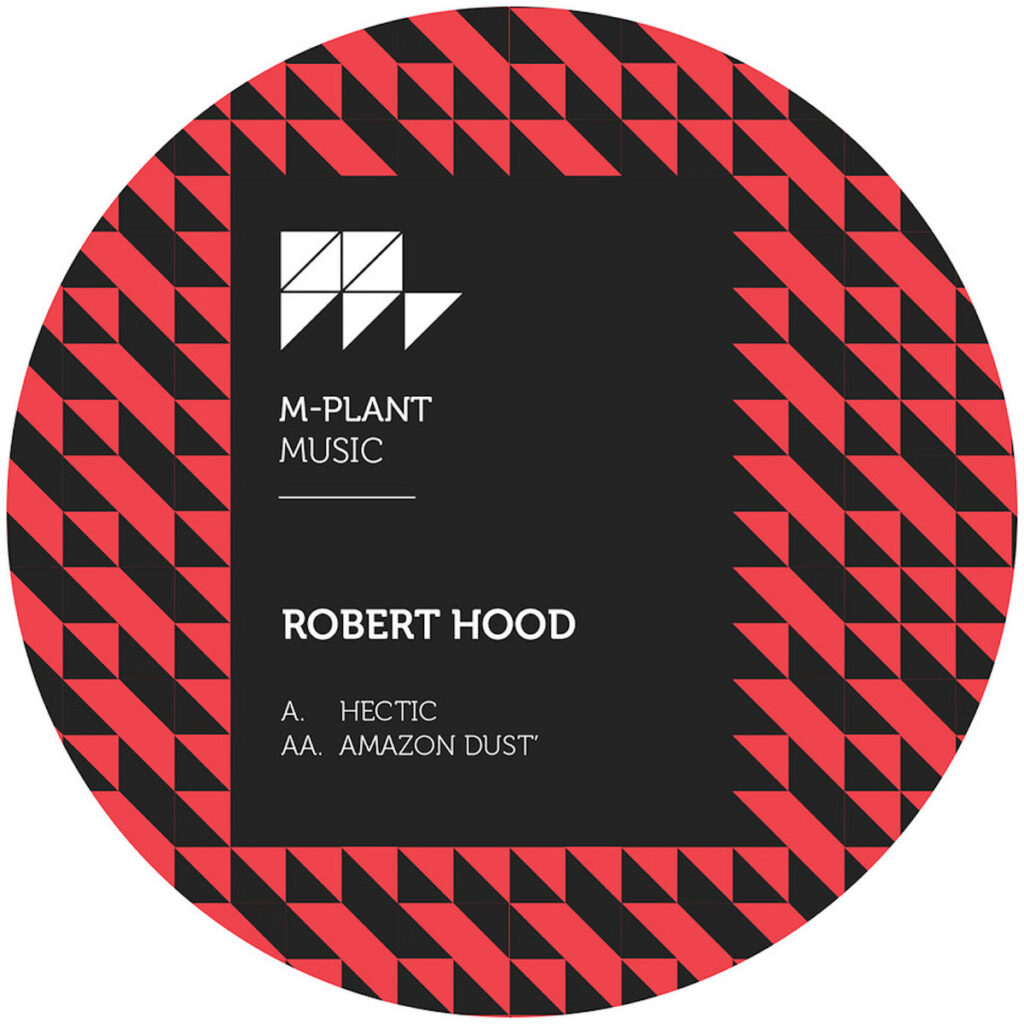 Robert Hood takes on the faster BPMs and higher intensity Techno flowing in the scene right now, offering a new 2 tracker release of hard and minimalist banging Techno tracks off M-Plant with "Hectic / Amazon Dust".
Whether you know Robert Hood as a pioneer of the Minimal Detroit Techno movement, or as the Techno artist with a strong, spiritual and soulful side, or as the father-daughter duo Floorplan that throws out funky, grooving techno-house, we can all probably agree that when Robert Hood gets serious and starts throwing down hard tracks, this is where he shines the most. Those fortunate to have seen him DJ at peak hour know his track selections can really move the crowd. It's great to hear that kind of intensity brought into his tracks on this latest "Hectic / Amazon Dust" release.
It doesn't sound like Hood is patronizing the current climate of higher BPM techno here, but rather, showing off his musical range. The tracks retain the Techno soul of Detroit but only if you look for it deep within the groove of the track and the way it makes you dance. There's definitely a feel to it that calls upon the flavors of funk. The subtle idea of the timing to create this strong hint of soul while this burning intensity rages over the top of it creates a great creative dynamic that carries these tracks and "Amazon Dust" especially.
"Amazon Dust" has a lot of classic themes, the FM-based clanging synth hit, the big claps in reverb, and a surprisingly useful white noise transition element. Everything in it is quintessential Techno. The personalized departure on the track comes from an inventive atmospheric layer and a really nicely layered subharmonic to the kick that adds to the groove of the track which is pure class. "Hectic" opens up the EP with a big and heavy sound that would blend very well with Joey Beltram's "Forklift." The track doesn't go overboard with the hard aesthetics but retains that taste and the aforementioned subtle funk. The track's main goal is to provide intensity to the set where the next track is a relief.
Whether you're on board with the higher BPM techno or not, it doesn't seem to be going away any time soon. For some, it's a trend that some have been saying is merely bandwagoning in order to not feel left out, but to others this is something they have been waiting for as a listener. Perhaps some heads in the scene were very reluctant to accept the Minimal Techno transition from good old nosebleed Techno and those people can finally have their day again with fists in the air, their faces melted off like raclette onto the floor in front of them. But for others, this actually might mean that we have a lot of diversity in techno once again and people aren't afraid to go at the music at their own pace and try out different BPMs and levels of intensity. If this "Hectic / Amazon Dust" EP is any clue, the M-Plant catalog is also going to be more diverse. For Hood, this works really well. This kind of diversity would give him a creative license to expand his catalog, from spiritual and soulful House to hard bangin' Techno, which is healthy and necessary for any artist. We can't wait to hear it.
-Sean Ocean
Check out Dirty Epic music recommendations here.
Listen to our podcasts here.
Find out more about our events here.