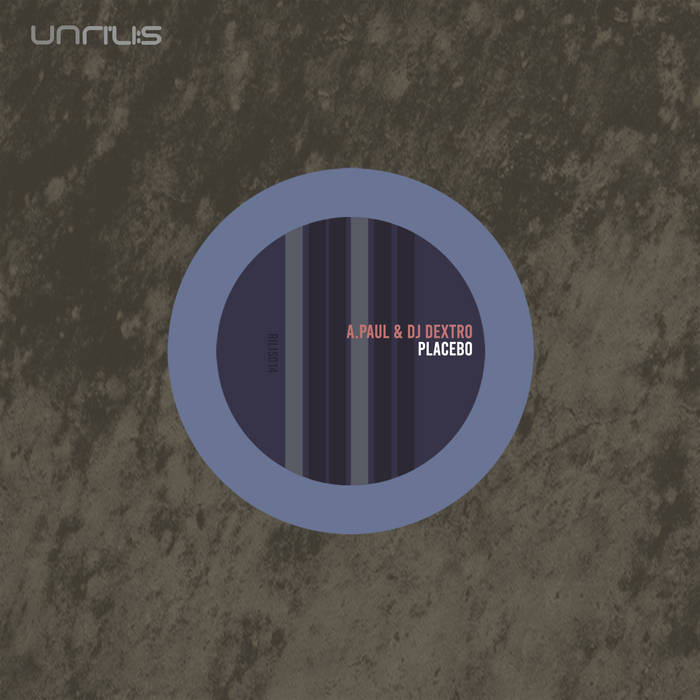 Something of an inseparable dynamic duo, A.Paul and DJ Dextro are back once again on the unstoppable Unrilis label helmed by Rino Cerrone and Mario Manganelli out of Naples. "Placebo" puts forth 5 tracks of straightforward, dark, hypnotic, and uncompromising Techno.
The team of A.Paul Paulo Pereira and DJ Dextro, aka Luis Godinho, have been a very strong force in the Portuguese scene for many years. A.Paul has been one of the guiding lights in the Techno world since the late '90s, releasing on Primate and Planet Rhythm labels, and providing a source for quality driving Techno with ONH.CET and Naked Lunch. With Dextro coming from Toolroom, Suara, and Sleaze labels, it was almost guaranteed that a lasting collaboration would come about from these friends and fellow Techno heads in Lisbon. What makes A.Paul and DJ Dextro's tracks so proficient and prolific is usually A.Paul's straightforward, no-nonsense approach and the ability to make tracks that fit with everything as a layer on the dance floor combined with the hype and party-rocking style of DJ Dextro, creating a winning combination that can be found in many DJ's boxes and Rekordboxes from around the world.
This 5 track "Placebo" EP is really no exception to that rule, but it's nice to see that it's being supported by Unrilis which, after a quick redesign, has put a new face on the label and is similarly looking to branch out with forward-thinking Techno. Right out the gate with the track "Engage", the EP grabs you and doesn't let go. The main goal of the track is to grab you by the collar with sounds that force you forward to the speaker stacks. Finding sounds that take the wind out of your chest is not an entirely new concept—the sonic idea of asphyxiation goes back to The Shaman's "Oxygen Restriction" as an older example, but it's executed here perfectly with a very hectic, main synth line matched by percussion that rides your shoulders.
The tracks "Insipido" and "Histeria" similarly don't play around but have an interest in bell-like sounds as solid layering devices in a set. They can also stand on their own as a less intense part of a set than "Engage", though they round out an EP full of variety and emotions. "Vessek 52" returns the EP back to the harder side with intense mid-level synths and classic metallic chord stabs that any real Techno fan can simply never get enough of. Following on the heels of its chorded concepts, the lead filtered synth line on "Reducer" is all about the chords, making for a very solid, bangin' groove. The improvisation between filtering and playing with the release of the chords mixed with the drum tracks and offset bassline with the perfect amount of swing makes this track quite the head-nodding and danceable track that one absolutely can't refuse to dance to.
A.Paul and DJ Dextro are quite an unstoppable force now. Their sheer volume of output is unmissable as every week they have something new on the books. Their latest "Placebo" is brimming with upfront banging Techno. Having been curated to some degree by the Unrilis camp, it seems like they've picked a few of their favorites from the unreleased gems and packaged up a seriously intense and functional mini-Techno album.
-Sean Ocean
Check out Dirty Epic music recommendations here.
Listen to our podcasts here.
Find out more about our events here.