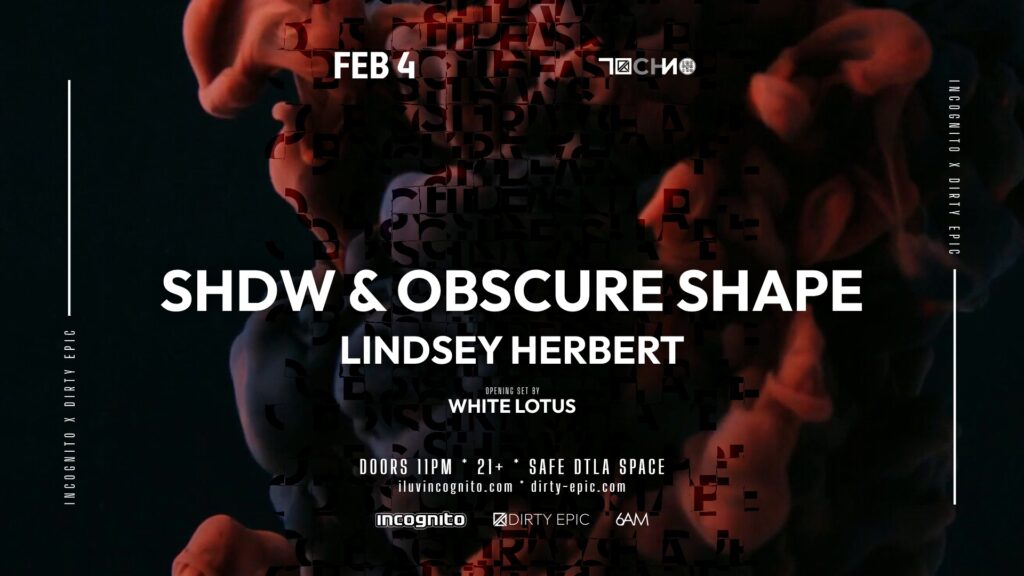 On Saturday February 4, INCOGNITO and Dirty Epic proudly present From Another Mind label bosses SHDW & Obscure Shape for only their second LA appearance. Hailing from Stuttgart, the duo have conquered the European circuit, with gigs at Printworks, Exit Festival, ADE, Awakenings at Gashouder, E1 London and more, while capturing the fandom of the global techno raver.
Main support this night is Lindsey Herbert, who has played coveted gigs in Detroit, Chicago, Athens, Istanbul, and throughout Germany (Tresor) and so much more. She has released her productions through Nechto, Ascetic Limited, Planet X, Northern Parallels, Marked Amsterdam, and more.
And opening up the night will be White Lotus, the owners of the new breed of LA techno underground, CNTRL.
/ disclaimer * To receive location info, we will be sending an email 2 hours before doors open. Please make sure to add [email protected] and [email protected] to your Safe Senders list. If you have unsubscribed, send an email to [email protected] be reinstated. Or goto www DOT dirty-epic DOT com and click the contact tab, then send us an email. * All tickets are final sale and cannot be exchanged or refunded. In the case of an event cancellation without a rescheduled date, a full refund will be automatically issued to each patron on the credit card used to purchase. By purchasing a ticket to this event, you agree to this purchase policy. Before purchasing your tickets, we urge you to confirm the title, time and location of the event. * Artist lineup may be subject to change without notice. * For COVID-19 related info, please refer to COVID SAFETY FAQ
/ bag policy ALLOWED: Small clutch bags or wallets that do not exceed 6.5″ x 5.5″, with or without a handle or strap, may be carried into the venue OR any clear bag options (clear tote or storage bag, with contents visible from the outside).
PROHIBITED: Oversized bags (i.e. backpacks, suitcases, beach bags, laptop bags, etc.) and camelbacks.
Starting with our united COMPOUND event on NYE, and carrying forward until further notice, we will be taking action to prevent and minimize the likelihood of theft at any of our events. Part of this includes introducing a new bag policy for all COMPOUND partner (INCOGNITO, Dirty Epic, Synthetik Minds and 6AM) events moving forwards.
We understand that this may cause inconvenience to some, and we apologize for this. However, we have to take action and this is an effort to improve your experience on our dance floor in 2023. We encourage you to always beware of pickpockets, to keep your phones and valuables secure in hard-to-access locations on you, and to report any suspicious activity to our security or any member of staff.
Check out Dirty Epic music recommendations here.
Listen to our podcasts here.
Find out more about our events here.