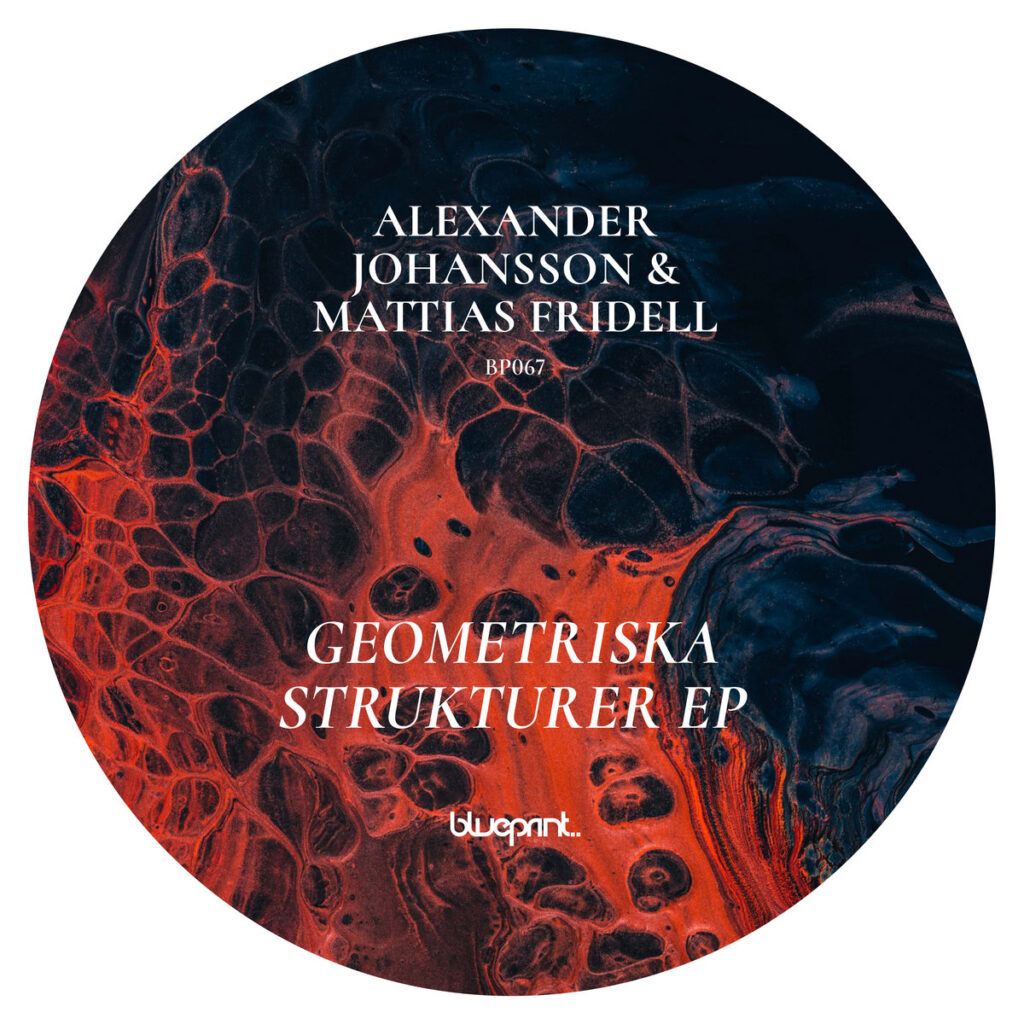 Longtime collaborators, Johansson and Fridell, come together to take Swedish Techno to the next level with funk, groove, and gritty sound design with their "Geometriska Striktruer" EP out on the mighty Blueprint Records.
The Lomsk label bosses have a long history of solo work. Such as Johansson's earliest releases on Compound in the 2010's, taking a reserved approach to his work in the public eye and mostly preferring to let his music speak in a big, abstract and tonal sort of way. Whereas, if you're familiar with Fridell's work, you've probably been in touch with his mastering work, come across his well-designed sample libraries, or even just had his tracks in your crates for a long time, since they always present with artistic intent and a view of something a little different than the standard Techno of the year. When these two artists get together, there's definitely something special and unique about their collaborative efforts as they go down a path elsewhere in Techno music—entirely their own but also deeply rooted in the fundamental principles of Techno and their nation's historical contributions to the Techno world over the years.
Their style is really hard to nail down, since it doesn't have a precedent. They're definitely pioneering a unique idea and pursuing what their hearts desire. Of course, there are some Swedish Techno foundations here—some commonalities with Cari Lekebusch's deep and offbeat style, the powerful and forceful minimal beats of early Drumcode, the banging vibes of Planet Rhythm, and the tasteful funk of Joel Mull. But if you want to hear Alexander Johansson & Mattias Fridell's personal voices as a duo, the 2021 albums "Sinnesorgan" and "Knaster Fran Arkivet" would be a great place to start. Now throw those concepts together with the Blueprint aesthetic, and you have something truly remarkable. Right out of the gate, you have "Cylindrar," which seems to tie up a lot of the Johansson and Fridell concepts under the familiar idea of Mark Broom and James Ruskin's quiet 2010 anthem, "Hostage," which is quite an interesting reference. They definitely advance the concept to quite a heavy level of grooving and the hypnotic way that is all their own.
"Liksidig" has early Blueprint Records' style all over but is very much mutated in concept. There are vague references to how things used to be done, but the aspects have been changed, such as the rhythm synth arpeggio to give that industrial short bar loop feel of late 90s techno. Johansson & Fridell are using their keen skill of combining synth tonal characteristics and contrasting it with rich sound design elements. The peak track of the EP, "Klot," is just superb with its stripped-back groove, perfect timing of all the elements, a very subtle distortion that provides a calming hush to the track, and distant harmonics that are breathtaking and fascinating. Everything fits and locks in place in such a satisfying manner that is 100% pure Techno in every way—simply outstanding. "Koner" closes us out with a very funky concept of machine soul. Their filtered industrial loop is the foundation for their other elements to peel off with the timing as all elements surround this central concept and move in the space around this hypothetical object. The groove in this track is so infectious, if you don't find yourself dancing in your seat, you might as well be dead.
Spending some serious time with this "Geometriska Striktruer" EP is very rewarding. It feels so much like a Blueprint EP, with all of its class and tastes, as well as serious vibes, some older stripped-down ideas from their past, and a hint of the tribal techno that the label was founded upon. Great to hear as a follower of the label for a very long time. Alexander Johansson & Mattias Fridell wrap those ideas up really well. Their personal take on the music is an unflinching look at what their vision of Techno is, the love of their craft, and how their influences have shaped them.
These ideas truly take this particular Blueprint release to another place entirely. It's unique, funky, great to dance to, skillfully crafted, artful, heady, hypnotic, and full of personality. Techno music like this should not be this rare, but you need a few people to show you that it's ok to be yourself. To show what it means to find and express joy in your music rather than fear that you're not able to compete or fit in.
-Sean Ocean
Check out Dirty Epic music recommendations here.
Listen to our podcasts here.
Find out more about our events here.