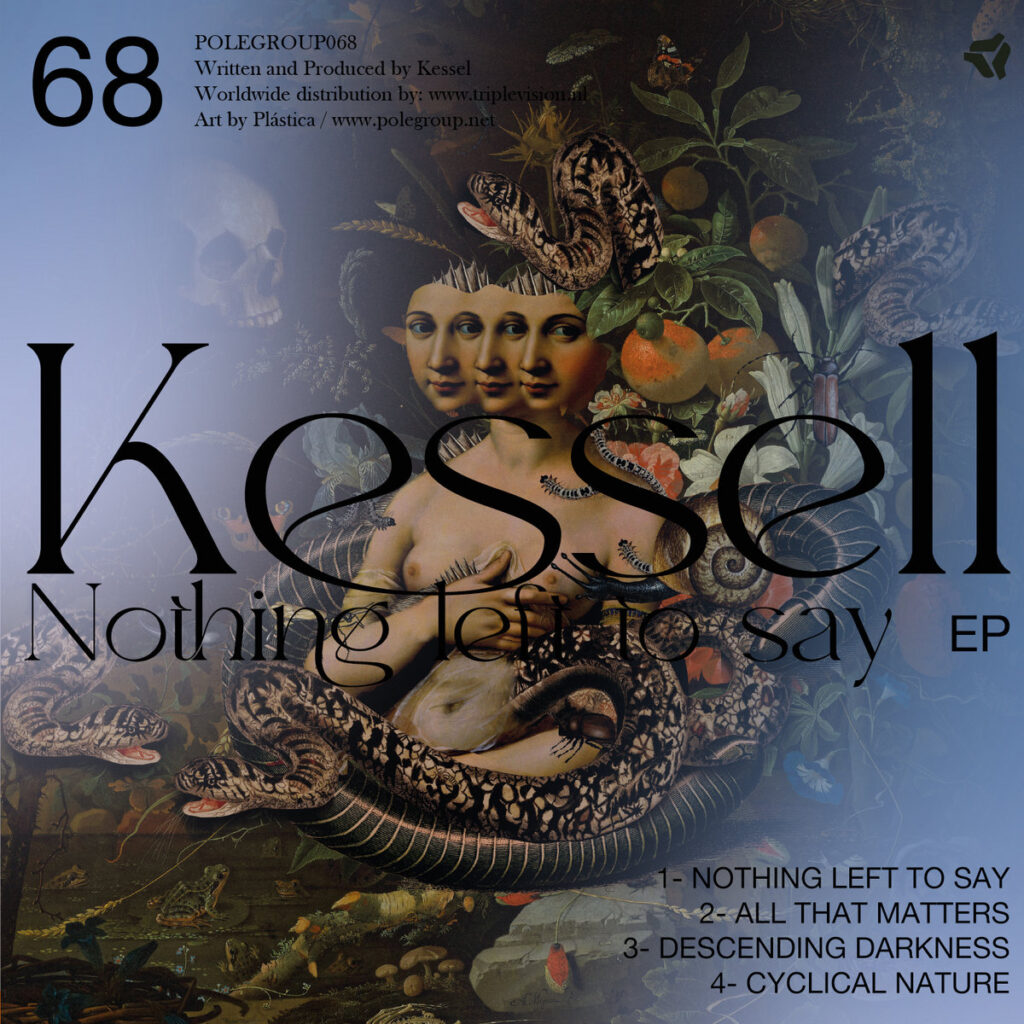 Polegroup continues to push boundaries and directions within the confines of Techno, reflecting on its history as Kessell explores distortion like an abstract painter explores paint as a medium on his latest "Nothing left to say" EP.
Valentin Carujo, aka Kessell, and one part of the Spanish duo Exium, has had his fair amount of experience in Techno, with Exium being a staple in many people's crates from the mid-late 2000's to the present. Now, Kessell has been coming into his own over the last 5 to 6 years. Kessell's productions over the last few years have been of the lower BPM range, with groovy and deep industrial-infused Techno, but since the world has had an epiphany, and harder and faster techno is becoming the norm, this leaves some room to grow in new directions as an artist. One question you have to ask yourself as a Techno producer in the present day is, "What haven't we tried? And what can we do within Techno music?"
In an EP like "Nothing left to say," this question is definitely posed—what haven't we done yet and what can we do? Polegroup has such a huge following that it isn't afraid to take any risks, so the directions the artists have taken the label and the choices handed down from Oscar Mulero's curation of the label have been bold and brave and decidedly different.
Here as well on this EP, Kessell takes a singular idea of distortion and goes lovingly mad with it, much like American blues musicians in the 1940s destroyed their amps and British guitarists in the '60s would take razor blades to their speaker cones. With distortion emulations and saturation plugins coming at us from everywhere high and low, manufacturers are actually having a hard time giving them away. It only makes sense that these emulations should be more well explored. If these are not plugins, they could be stacks of distortion pedals or outboard kit, like Elektron's Analog Heat or distortion racks, yet it still seems reeled in and controlled like plug-ins. Perhaps a combination of ideas is at play.
The title track comes out of the blocks with overly saturated everything; everything has a huge amount of fuzz growing off of the original parts that it seems almost like a funky mold or fungal infection. There are so many organic textures to listen to that you wind up overwhelmed. You'd think that not having any part staying in one place for too long would lead to a lack of hypnotic elements to dive into, but it's the fact that there's too much to take in that the brain just sort of shuts down. This results in a hypnotic state, where your mind is just succumbing to whatever is being piled onto you.
"All that matters" takes on an early 2000's Schranz-meets-loopy-Techno base and just grimes the hell out of it, creating this sludge where all the dynamics of the track are sort of pushed into each other like a fist through a loaf of bargain store sliced bread. Similarly, "Descending Darkness" reminds one of the works of Sven Dedek in the late '90s, but Kessell takes the distortion to dissociative levels to create this disrupted grungy imagery.
"Cyclical nature," is another exploration of the smashed dynamics but with a soggy soup of distortion and high hats similar to "Nothing left to say." You're curiously listening through these elements, but it's difficult to focus on any one part since the distortion has completely randomized everything. It would take a long time to actually become bored with the track since everything is completely nuanced by the distortion.
Last up on the EP (as a digital exclusive) is "Inside trauma" taking on a nod from the late 2010's Broken Techno that really helped embrace distortion as part of its creative makeup. While not many people are pursuing Broken Techno as wholeheartedly as they used to, it's great to see the track as context alongside 4-4 elements that both Broken and Industrial Techno have championed initially.
The use of distortion is nothing new. For example, Perc has championed a lot of this kind of tough-sounding Leftfield on Perc Trax. Industrial techno has always had a strong love of distortion, and there's always been some level of distortion present in Techno as a whole for a very long time. But what's new here and what has been said, despite there being "Nothing left to say" is the way that the distortion is used to create a dissociative state. The way the dynamics of the track are essentially just punched in their face and layered with this very dirty and almost fungal, rotten kind of sound is actually very new. It's an exploration of distortion as a medium, like a statement rather than a treatment of existing sounds to make them sound different or unique. The concept is quite a novel idea as an artistic approach to Techno that is fully encouraged and takes a brave look forward when so few people are willing to try and change the genre as a whole.
The question comes to bear though, is it dance music? Can it function in a DJ set? Well, sort of? The weird places these tracks can take you in a night, possibly like throwing on an old Subhead record or Neil Landstrumm track to filth up a clean beat-focused record, might be the way to go. But also the other question comes to mind, does it need to be dance music? Polegroup and Oscar Mulero have been keen to feature IDM and experimental music in the past. It is not entirely Leftfield to pursue this avenue. For home listening and die-hard Techno heads who cannot stop listening to Techno under any circumstances, having something a little outside the norm that can be appreciated like Jazz or Abstract Expressionism is definitely welcomed.
-Sean Ocean
Check out Dirty Epic music recommendations here.
Listen to our podcasts here.
Find out more about our Events here.
Listen to our review picks here.