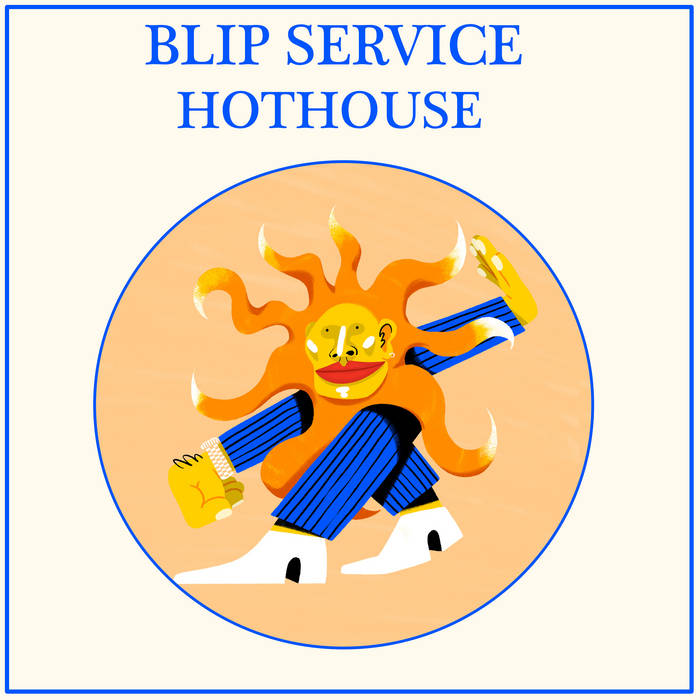 Blip Service's eclectic debut EP, Hothouse, serves ocean waves and acid riffs in a grooving three-track joy ride.
Like so many artists, Blip Service was long reticent to share his musical creations with the world. In an interview with Dirty Epic, Blip Service explained that he has "always really struggled with […] the self-publicity side" of making music. Although he has been producing for some time now, his tracks only saw the light of day in DJ sets by him or his friends. Until now.
Through a friend of a friend, Blip Service got in touch with Dancing Family Records. Thus, Blip Service's inaugural record Hothouse EP was born. Dancing Family Records is a young label based in South East London featuring a diverse range of musical styles, including neo-soul and alternative rap. Hothouse adds a new flavor to the Dancing Family catalogue, becoming the label's first dancefloor oriented release.
Kicking off the EP is "Tom Nook," named after an Animal Crossing raccoon character with a squirrely voice. The tune is anchored by a lush pad that slowly rises and falls, mimicking the movement of gentle ocean waves. A short, playful melody joins, adding a zip of rhythm and intrigue. Tom Nook's signature voice makes an appearance during the breakdown that is sure to provoke laughter. Leading to the drop, a sultry, manly voice recites "Palm Trees. Clear Blue Water. Beach Margarita. Cuban Cigar," adding to the ironic charm like floral wallpaper decorating a beachside motel. After we've settled in, an acid line crashes the party, injecting a touch of warehouse grit to the beachy sound.
Whereas "Tom Nook" is long and sprawling, "Acidbath," the second tune, is short and punchy. The tune cracks open with a quirky combination of melody and percussive groove that grabs our attention. Crisp hi-hats, moody strings, and a rolling acid line join hands to create a tough, yet vibey mood throughout the three minute and thirty-three second ride.
In the final tune, "War Cry," drums and vocal sampling take the spotlight. A thudding kick is flanked by kinetic hats, bells, and blips, creating an animanted groove. Hearty vocal samples bounce off the groove, creating a rambunctious burst of energy. It's the kind of tune you'd have to try NOT to dance to.
"War Cry" is a chameleon – its boisterous drums make it tough enough for a warehouse, yet its groove and vocal charm make it funky enough for a day rave. The tune is a testament to Blip Service's electric production style, which brought us from sunbathed beaches to warehouse romps over the course of Hothouse.
Despite his hesitation to go public, Blip Service took the plunge and unveiled his tracks with Hothouse EP. We are lucky that he did.
– Forest Lieberman

Check out Dirty Epic music recommendations here.
Listen to our podcasts here.
Find out more about our events here.