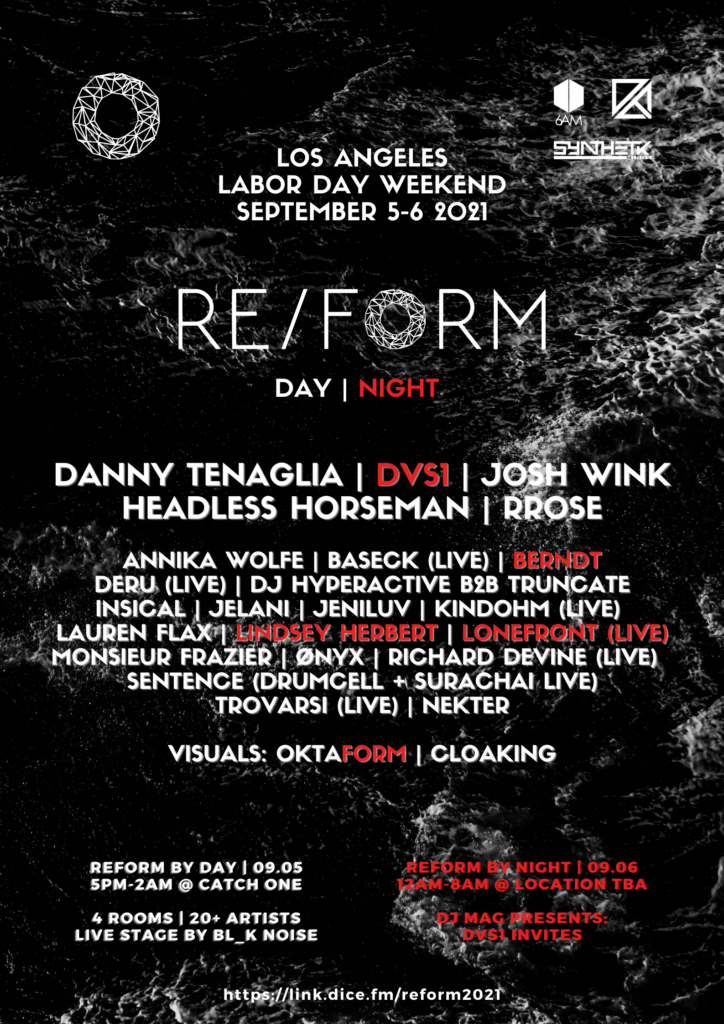 REFORM returns to Los Angeles on Labor Day Weekend 2021 as a split day-into-night event concept that aims to showcase and elevate the presence of cutting-edge electronic music in Los Angeles with a focus on quality Techno and House.
REFORM BY DAY Danny Tenaglia, Josh Wink, Headless Horseman, Rrose (Headliners) Annika Wolfe, Basek (Live), Deru (live), Hyperactive b2b Truncate, Insical, Jelani, Jeniluv, Kindohm (Live), Lauren Flax, Monsieur Frazier, Ønyx, Richard Devine (Live), Sentence (Drumcell + Surachai Live), Trovarsi (Live)
REFORM BY NIGHT DJ Mag presents: DVS1, Lonefront (Live), Berndt, Lindsey Herbert
Visuals: OKTAform & CLOAKING
When we began our REFORM project the concept was to bring something new and fresh to Los Angeles, taking inspiration from the groundbreaking work done by our peers, while simultaneously delivering a more underground experience to a bigger stage. Simply put: we believe Los Angeles deserves a world-class House + Techno scene, and while we know that the scene here is vibrant, growing and strong, we want to do our part to see it grow even further and rival that of any in the world.
We had to put our 2020 plans on hold, but it is with the same ethos and goals that we present you the full REFORM Summer 2021 Lineup, taking place on Sunday and Monday of Labor Day Weekend.
On Sunday, September 5th 2021 we will be taking over Catch One with a 4-room House + Techno lineup headlined by New York City legend Danny Tenaglia, underground and Acid maestro Josh Wink, the industrial techno enigmatic figure that is Headless Horseman, and experimental techno-wizard Rrose.
But our Day programming doesn't stop there. From 5pm-2am you will also get to experience Detroit native and long-time Brooklyn resident Lauren Flax as well as DJ Hyperactive and Truncate performing back-to-back.
We have also joined forces with Moe Espinosa aka Drumcell to curate an entire BL_K NOISE Live Room featuring Live performances by Richard Devine, Basek, Deru, Kindohm, as well as Moe himself performing alongside Surachai. The room will also feature visuals by OKTAform, one of the leading electronic music VJs in the world.
Rounding up the Day programming, we have decided to give focus to the burgeoning Los Angeles techno scene, featuring sets by Annika Wolfe, Jelani, Jeniluv, Monsieur Frazier, Ønyx b2b Insical, and Trovarsi (Live), most of whom will be performing in a dedicated Discovery Room that aims to showcase artists who have put in great work right here at home in LA.
While the Day programming is essentially a mini-festival on its own, our roots will forever remain in the underground. It is with that in mind that we are collaborating with DJ Mag for our official REFORM by Night lineup that will see underground techno mastermind DVS1 curate the entire night at an undisclosed location, from sound system to lineup, inviting Bernt and Lonefront (Live) from Minneapolis to perform alongside him, as well Los Angeles' very own Lindsey Herbert to open up the dances.
REFORM By Night tickets are exclusively available for attendees of our Day event.
Tickets for REFORM by Day and REFORM by Day + Night are on sale now on DICE: https://link.dice.fm/reform2021
IMPORTANT REMINDERS FOR ALL TICKET HOLDERS & ATTENDEES:
This is a SAFE SPACE to enjoy music and friendship. Anyone caught harassing, disturbing others or breaking any of our policies shall be immediately removed and banned from all events.
We will be following CDC guidelines and COVID protocols for both Day and Night events. While these are subject to change, at the moment they include mandatory masks, reduced capacity and either proof of negative COVID test within 72 hours of doors open or proof of vaccination. These are mandatory and non-negotiable. We will not issue refunds for your refusal to follow CDC guidelines and our COVID protocol.
Location for REFORM by Night afterparty is TBA and will be e-mailed to ticket holders 2 hours before the event starts.
Ticket Policy: All sales are final. Non-refundable. Non-transferable.
Street parking at your own risk. Ride-share strongly recommended.
NO outside food & drinks allowed, NO pets.
NO photos and videos allowed at REFORM by Night.
Both Day and Night events are strictly 21+
Presented by 6AM, Synthetik Minds & Dirty Epic.
Check out Dirty Epic music recommendations here.
Listen to our podcasts here.
Find out more about our events here.