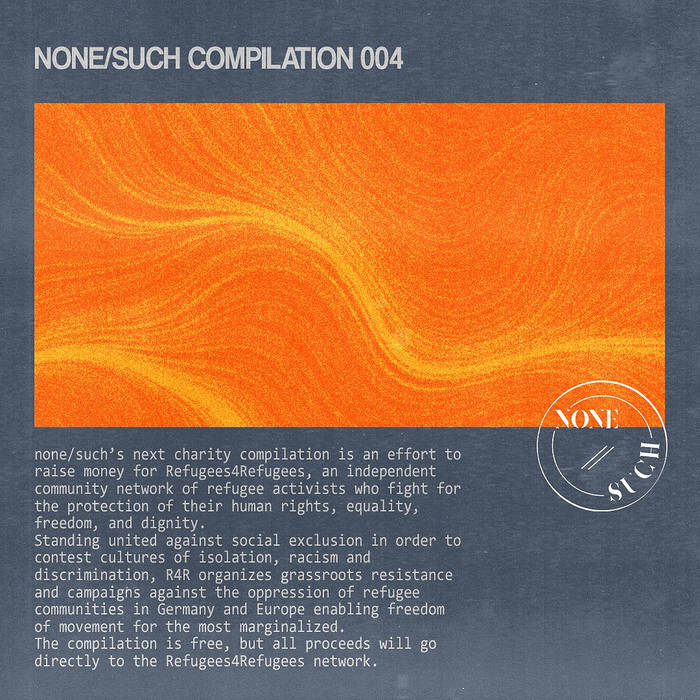 With 26 searing tracks built out of references to hardcore and jazz, ratcheting acid, classic UK junglework, and shining glitchy trance, "Compilation 004" released on none/such supports a refugee nonprofit and certifies that the northern frontier of Midwest techno is in very good hands indeed.
"Compilation 004" comes from an Ann Arbor-based techno collective and is interesting in its own right. It's refreshing to know there's still people living in the birth state of techno, yet outside of Detroit, keeping the flame alive.
Opening on the chilling, skittering shimmer of "Mima," the sonics on "Compilation 004" are as meticulous and expertly executed as material by some of the best producers in the game. The kicks land with the perfectly satisfying thud of a rock falling into snow; the kind of acoustic precision you might expect from Planetary Assault Systems or Developer. Acid zings but falls out abruptly, replaced with a sleek vocal sample and a wicked hardcore beat in a fun bait and switch tactic frequently employed throughiout the release, keeping it a fun listen throughout the generous 26-track compilation. Remarkably, none of them sound like filler or obvious skips, and each artist on this VA "Compilation 004" brings a fresh take to the table.
"Hydro Katalysator" sounds like it could've opened in a killer set from Paul Van Dyk at a summer Loveparade in Berlin '97. Your head spins as vicious sirens and muddy drop kicks resound in your cranium on "ON RHYTHM VERSUS TEXTURE 1". The tempo escalates to a dizzying 170bpm as the release reaches a euphoric, feverish pitch. There's even a bit of blue-tinged fiery Psy and high-octane broken beat charred with a buzzy synth melody line on tracks like "Somersault" and "Crying in Prada."
Ultracool laid-back house, funk, and old school R&B vibes blow in on Monsoon-like winds with a slew of tracks from Balaton, Detox, Dooner, and Fuckoff among others. From the deft sampling of cartoons and old school hip-hop to the various tastes of genre influences, "Compilation 004" washes over you in a nonstop technicolor dreamcoat of influence.
Knowing, on top of all this, that all proceeds go to Refugees4Refugees, "an independent community network of refugee activists who fight for the protection of their human rights, equality, freedom, and dignity", certifies the feeling you have after listening; the northern frontier of midwest techno is alive and well.
-Winston Mann
Check out Dirty Epic music recommendations here.
Listen to our podcasts here.
Find out more about our events here.