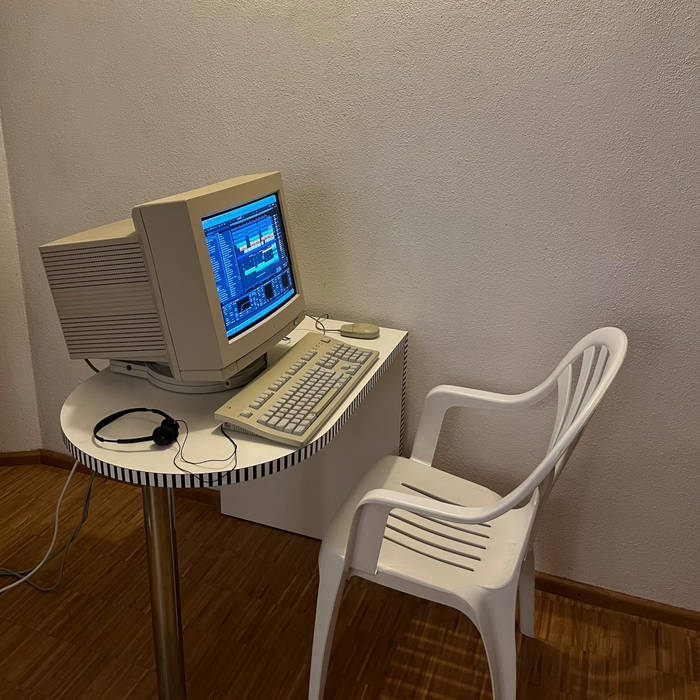 Warnung, co-founder of Berlin-based collective and label AKRONYM, is back with "sorry mum, i deleted the internet" for another adrenaline-pumping EP. His latest release showcases a collection of irresistibly infectious dancefloor-ready Techno bangers that are bound to make your heart race and your feet move.
The EP kicks off with "Aha." An immediate energetic burst of kick drums and punchy rhythms catapult you through the gates, and it's off to the races we go. As the track unfolds, we follow its exhilarating pace and find the Gwen Stefani "Hollaback Girl" sample seamlessly weaved in. "Uh-huh, this my shit. All the girls, stomp your feet like this." It perfectly encapsulates this pounding beat that captivates Warnung's listeners. A haunting and mesmerizing groove closes this track, pulling you deeper into Warnung's distinctive realm of sound manipulation.
Continuing the descent, we come into contact with the EP's second track, "Source". A rolling bassline, seductive synth melodies, and looping vocals echoing the words "first trip" guide us through this electronic expedition, successfully eliciting flashbacks of our first trip through the electronic underground.
Halfway through and we are shown "Exit Strategy" for a fast-paced track composed of a fusion of otherworldly, gritty rave beats. Its loopy and funky sound design has a darker feel than previous tracks, but no doubt has all the essential components necessary for the darkest dungeon dance parties.
Filled with a booming baseline, supernatural synths, and a sci-fi-esque soundscape, "Gastien" welcomes us to a slightly more surreal and cryptic space for us to gather our bearings at. Warnung's journey to its ultimate destination is skillfully crafted, tastefully blending contemporary electronic elements with more traditional Techno tools.
As we make our final stop on the EP, the final track and title leaves us questioning: "is this House music?" An exhilarating beat propels us towards the finish line, accompanied by a very House-inspired keys melody. Both elements are harmoniously balanced, giving the closing track a well-rounded conclusion. In "sorry mum, i deleted the internet," Warnung delivers precisely what Techno enthusiasts crave: fast-paced, meticulously crafted, and delectable delights that leave a lasting impression.
-Rossana Elorreaga
Check out Dirty Epic music recommendations here.
Listen to our podcasts here.
Find out more about our Events here.
Listen to our review picks here.