When it came to selecting the headliner for our 11th anniversary celebration, Dax J was a no-brainer. A true standout among all the DJs we've worked with over the years, he's more than just one of our absolute favorites, he's someone we've had the pleasure of spending time with over the years. Dax J is simultaneously a hilarious yet chill human as well as a wizard both in the studio and on the decks. And we couldn't be more thrilled to have him be a part of our unforgettable anniversary party!
Dax J has taken the world by storm, performing as a DJ everywhere from Gashouder and Berghain to our very own shores on the West Coast. As the label owner for Monnom Black, Dax J has proven himself as a tastemaker and a master selector across dancefloors worldwide. Soon spinning for us again, we got the chance to ask Dax J a few questions before his upcoming sets on the 7th and 8th in Los Angeles.
Dirty Epic: Dax, you've been quite in demand over the last year, and it seems like you have no end to your touring schedule. What keeps it fresh for you? And how do you stay excited for the set?
Dax J: Yeah, DJ life these days is a never-ending tour—you have to really love it to endure it. The best way for me to keep excited is to constantly have fresh music to play, whether it's my own tracks or new ones I've found that week. It's exciting when you get to play a new track for the first time to see what the reaction will be. If you don't have at least a few new tracks to test every week, it can get stale fast.
DE: You've been known more as a DJ than a producer lately. Do you feel the audience and DJ world is opening up to the idea that you don't have to be a producer to survive as a touring musician?
Dax J: It's interesting how the dynamics have completely changed in the last 2 years. It is now a fact that you no longer need to make music at all to become a "touring DJ". It used to be the only way to get gigs and make a name for yourself.
Nowadays, for new upcoming DJs, the most important factor you need is eye-catching social media. It's more important than having actual DJ and producer skills, haha. Funny, sad, and true. But I don't blame aspiring DJs or anyone for this. It's not their fault; it's purely the result and reflection of the technology of our era, which in turn influences our culture. It was always going to turn out like this; it was inevitable.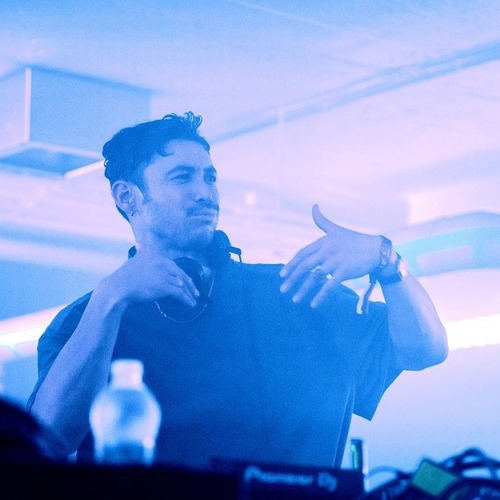 I predict in about 10 years, there will be no more producers at all. 99% of music will be AI-generated, which is exciting to think about because every DJ will be generating thousands of new tracks per week. We will hit a new golden era in electronic music, one that we haven't witnessed since the '90s. Many new timeless and classic tracks will be created and generated more than ever before!
On the flip side, I have been noticing small scenes/festivals/promoters placing more emphasis on the art form, pushing great producers and DJs to play high-level cutting-edge music. And I think it's a sign of great things to come and that the global techno scene is still alive and thriving.
DE: There's been some really prominent releases on your label lately. Do you find it difficult to manage Monnom Black from the road?
Dax J: Combine running the label with making music, looking for music, running your social media, general life, and there is always a lot of work to be done. It never ends. You have to stay on top of it all the time. Yes, it can be very challenging time wise to manage everything.
DE: Your history comes from Drum and Bass, but you had an epiphany while on holiday years ago that you wanted to pivot towards Techno full time. What exactly was the line of thinking that led to that idea?
Dax J: I was questioning whether to start a new path in Techno for quite some time. One day, I was stranded in a jungle in Vietnam whilst traveling with my friend, and had recently been thinking about this question a lot. All of a sudden, everything just clicked in my head, and I decided there and then that I would take on this new road. It made total sense for me to just go for it. I thought, "What else am I gonna do? Work a 9-5 job? No thanks!"

There's a saying—the decision is the hard part, the rest is easy. So for me, it felt like that. Once I made the decision, I was instantly excited as if I had already achieved it, because I knew with clarity from that moment where exactly I was going!
DE: What would you do to tempt a DnB fan into liking techno?
Dax J: Send them to Berghain.
DE: Last question. (Just for fun.) If you're in the green room with FJAAK, and there's a giant bag of California's finest kush on the table, what's the conversation?
Dax J: I'll give you $100 if you can bong that whole bag in 5 minutes. Do you accept the challenge? FJAAK – Yes!
-Jack Plumb & Sean Ocean
LINKS:
Dirty Epic 11 Year Anniversary: Dax J (extended set)
RE/FORM presents: Dax J & Rosie Love (Techno on the Catalina King Cruise Ship)
Dax J
RA: https://ra.co/dj/daxj
Soundcloud: https://soundcloud.com/daxj
Discogs: https://www.discogs.com/artist/819825-Dax-J
Check out Dirty Epic music recommendations here.
Listen to our podcasts here.
Find out more about our Events here.
Listen to our review picks here.